How Robotic Process Automation Can Help Your Business?
Would you like to save time and money? Improve the effectiveness of your business processes? Learn more here about how you can use robotic process automation to do all that when you implement Robotic Process Automation at your company.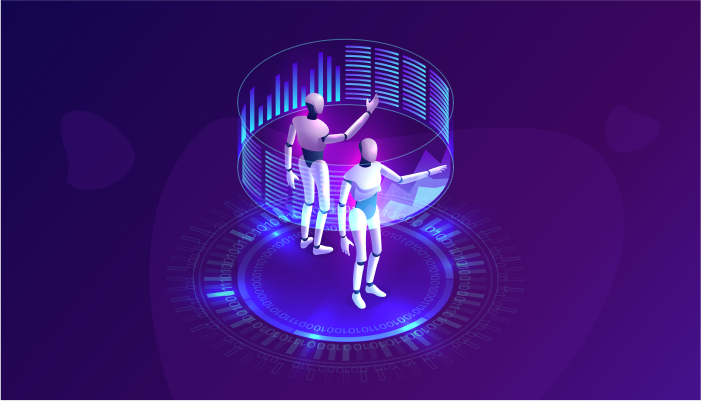 A lot of processes in business can get repetitive. And unfortunately, these processes can take a lot of time to do manually, taking away precious time from other areas of focus in your business. Luckily, robotic process automation can provide a solution to this problem.
What Is Robotic Process Automation?
Robotic process automation (RPA) is software that is coded to complete tasks that are done within a certain process. These tasks are performed in a similar way every time and can be either automated or semi-automated. Consider it like a virtual associate that will run the same process for you but do it faster and more accurately.
The capabilities of RPA software are to locate and collect data, execute decisions and create reports, code and manipulate other software, and control other systems all automatically, often through the Internet. In many cases, robotic process automation works faster and more accurately than human employees would in a similar setting.
How Can Robotic Process Automation Help Your Business?
RPA helps your business in three main ways: it frees up resources, improves efficiency, and increases accuracy.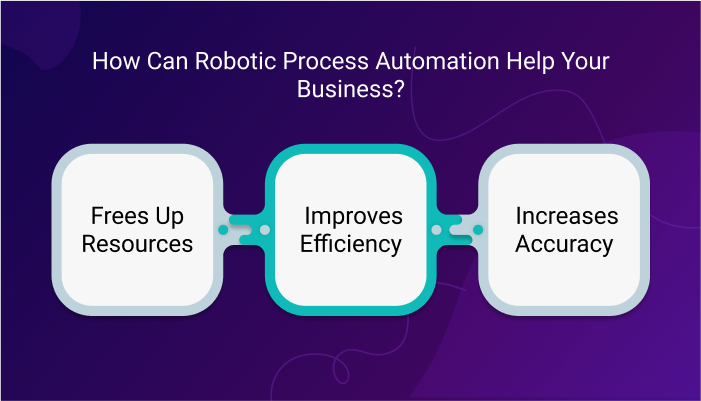 1. Frees Up Resources
When you need to perform a repetitive or routine task that is not time- or labor-intensive, robotic process automation serves as a quick and efficient solution. RPA tools can potentially save your business time and money by taking these tasks off your plate. With more resources freed up, your employees can focus on more important areas of focus within your business.
2. Improves Efficiency
RPA can help make your employees more efficient. By automating, rather than manually performing, a routine daily task, employees are able to focus on more important tasks. If a process needs to be performed in a certain way, robotic process automation can ensure that it is done that way. This will not only provide you with quality results, but it will also save time and money.
3. Increases Accuracy
Similar to the above point about consistency, robotic process automation can help create a consistency that leads to accuracy. There won't be any human error that may occur as a result of an employee doing something manually, such as forgetting to perform an action, making a mistake, or changing the process in some way.
As a business owner, you want to be able to trust the accuracy of your work, especially if it's a process that requires accuracy. The task will be performed the same way each and every time by the robotic process automation software, ensuring that your business is always operating at optimal efficiency.
Is RPA Right for Your Business?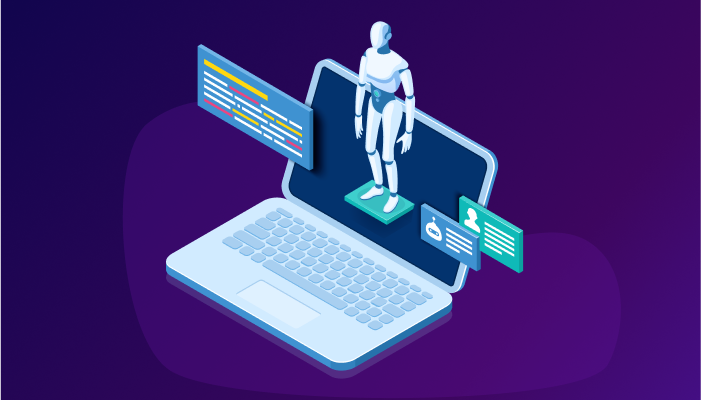 It's not uncommon for a company to automatically turn down the idea of investing in robotic process automation. Many business owners feel that it's okay to do things manually because they don't want to make the investment, or they don't believe it will actually improve the business.
But, when you break down the elements, it can actually save you money and make your business more efficient. If an employee has to manually perform a task each day, it may be time to think about putting that process on autopilot with robotic process automation.
There are a few things to consider before making the investment in robotic process automation, though.
Will the Cost of Robotic Process Automation Be Worth It?
RPA costs vary depending on the types of software used and the number of tasks being done. In the end, it's up to you to decide whether it's worth the cost.
You should consider the amount of time and money being wasted by the daily process you are trying to automate. Will your time be better spent on more important tasks? Or do you have more free time to tackle other projects because this process is handled by robotic process automation?
How can it potentially increase your revenue? Or can it help make your employees more efficient, giving them more time to work on other tasks?
Will you be able to integrate robotic process automation into your business's existing software systems? For example, will it work with your ERP or CRM?
What other systems does your business use for your employees to work with? Will robotic process automation work with these systems?
Final Thoughts
Choosing between investing in human employees and robotic process automation comes down to your business. You need to decide what works best for you and your business. However, robotic process automation may be the solution that your business needs to get you motivated and increase your revenue. Robotic process automation may not be for every business, but if you are running a business and trying to get more done, it's worth considering.
Automate some of your business tasks and processes with the help of BotPath. We are a robotic process automation software powered by AI, simplified with templates, and allows you to store recordings of your process. Sign up now!
Why Botpath?
#1
Automated Repetitive Tasks
#2
End-to-End Bot Development
#3
Customized Bot Builder
#4
Unlimited Automated Workflows Management
#5
Automated Data Extraction
#6
Workflows Recording Management
#7
Rule-based Process Automation
#8
Seamless Data Management
#9
Unbelievable pricing - the lowest you will ever find
#10
Everything your business needs - 50 apps, 24/5 support and 99.95% uptime
Join the SaaS Revolution
All-in-One Suite of 50 apps

Unbelievable pricing - $14.99/user

24/5 Chat, Phone and Email Support