What is Robotic Process Automation?
In this blog we will learn about technology that automates business processes with software robots.Rather than relying on code to do the same boring tasks over and over again, RPA uses a software robot that can mimic human actions just as they would be performed by an employee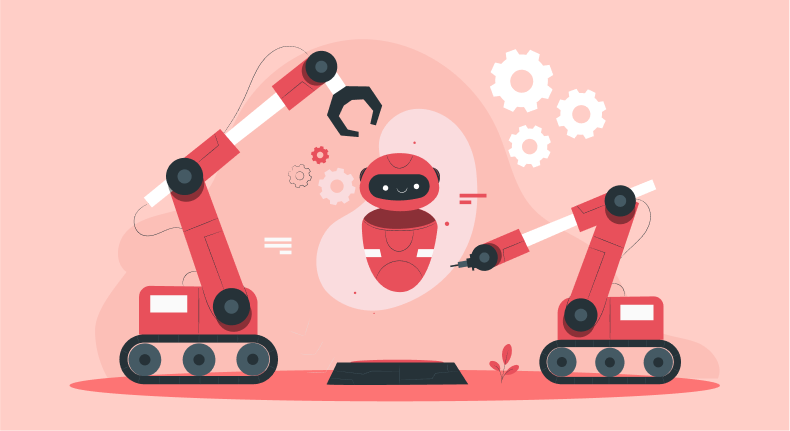 Robotic Process Automation (RPA) is automation software that helps end repetitive tasks. As a result, digital transformation becomes even more feasible and will enable users to build, deploy, and manage software robots that emulate human actions.
How Can Robotic Process Automation Help Your Business?
The growing demand for RPA growth is driven by a series of factors mostly related to the fact that RPA is set to solve a series of complex problems. Among the most popular uses for RPA process automation include: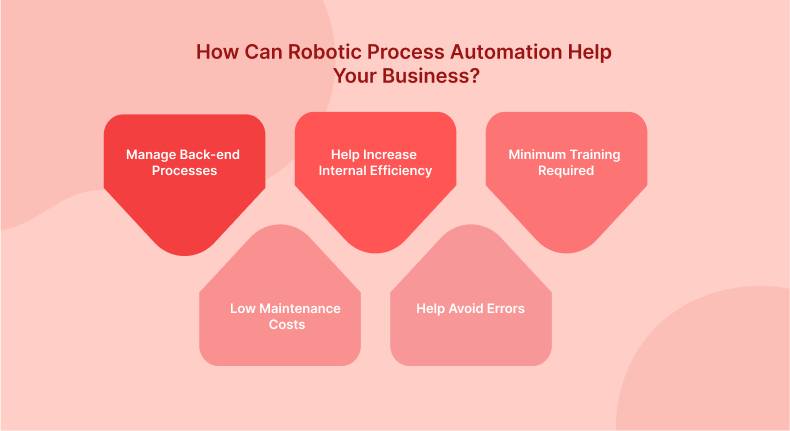 1. Manage Back-end Processes
RPA tools are currently becoming more mainstream in the business world. This is largely because many processes can be automated, such as those related to manual data entry, revising and updating files, updating data, and other administrative tasks.

In fact, RPA can be implemented in many different industries, including healthcare, financial, energy and utilities, professional services, and more. For example, in the healthcare industry, RPA can help with administrative tasks, such as scanning, updating and storing files, collecting and distributing reports, performing administrative tasks, and so on.
2. Help Increase Internal Efficiency
RPA can be used to help reduce business inefficiencies by allowing process automation. Since RPA works by eliminating humans from the equation, it can be used to help automate various business processes that only require humans to be involved in certain stages of the process. For example, RPA can be used to help automate the tedious process associated with managing time sheets. Instead of having employees manually complete the timesheet, they simply have to provide their data to the RPA tool. This is then transcribed into the time sheet.
3. Minimum Training Required
One of the most appealing characteristics of RPA is that minimal training is required. First, RPA is not affected by the lack of knowledge of a computer language. Instead, it is based on the rules and logic that it can be applied to.

As a result, people don't need to learn a lot about the computer language. Their only responsibility is to follow the appropriate process for the RPA tool to work.
4. Low Maintenance Costs
Manual processes require a lot of human intervention to report and recover from any error. As a result, there's a lot of costs involved in the process. Alternatively, RPA can be implemented by following the appropriate process to the letter. That way, they won't come up against any errors that might have resulted from human error and can be easily recovered from.

With RPA, no hidden costs or operations can be executed as part of the process. In fact, RPA is easy to use, easy to control, and easy to install. As a result, RPA can be implemented by following the appropriate process. RPA works best for businesses that have this kind of process. As a result, it can be combined with business process automation for the best results.
5. Help Avoid Errors
By implementing RPA, organizations can avoid typos, human errors, and other mistakes that can be easily made. For example, by using RPA, organizations can avoid human error by avoiding the process of capturing multiple signatures.

By using RPA, they can automate the process to take advantage of the fact that humans are always prone to making mistakes.
How to Get Started With Robotic Process Automation?
While using RPA tools is a cost-effective and efficient way to achieve business goals, it is advisable to know exactly how to use them to avoid any potential problems. That's why it's important to get the right RPA tool and ensure that it's installed properly. Also, it's best to take advantage of other RPA tools as well.
To take advantage of RPA tools, you should consider these five steps: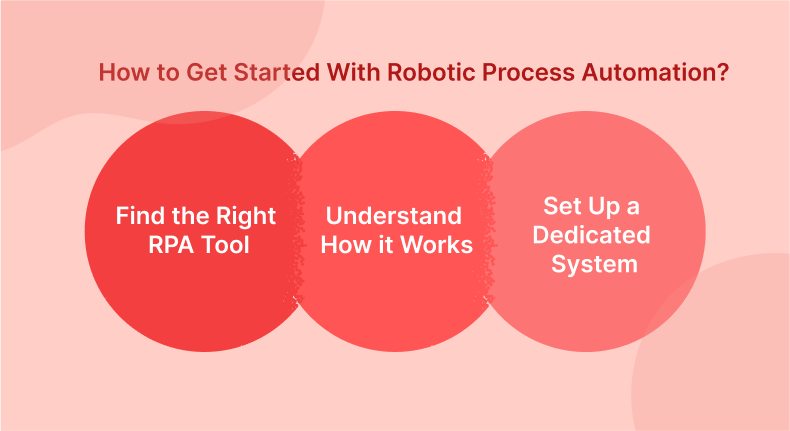 1. Find the Right RPA Tool
RPA Tools can help you automate your business processes in a safe and secure environment. That's why choosing the right tool for your business is important.
In choosing the right RPA tool for your business, it's also essential to fully understand what this tool does. By understanding the RPA tools in-depth, you can determine whether or not they can help your business.
2. Understand How it Works
Another important thing to do is to understand how the RPA software works. By understanding how the tool works, you can determine whether or not it's the best fit for your business.
After understanding how your RPA tool works, you should know about the various applications for your business and the maximum number of users that can be using it at any one time. This can help you determine how the application fits into your business.
3. Set Up a Dedicated System
Another important thing to do is to set up a dedicated system or an isolated environment that's only used by RPA tools. This is important because this will help secure your company's data.
By setting up a separate system, you can also ensure no human involvement in the process. Since RPA tools are automated, use a series of rules and logic, and do not require human intervention, it's best to keep them separate from the rest of your business computers.
The Bottomline
RPA is a growing phenomenon that organizations are beginning to take advantage of. As a result, organizations need to find the right RPA tool to help automate their business processes.
The best way to find the right RPA tool is to understand exactly how it works. Once you are able to understand how your RPA tool works, it's easy to determine whether or not it's the right fit for your business.
Do you need Robotic Process Automation Software? BotPath is here to make everything a lot easier for you. Get started now and sign up!
Why Botpath?
#1
Automated Repetitive Tasks
#2
End-to-End Bot Development
#3
Customized Bot Builder
#4
Unlimited Automated Workflows Management
#5
Automated Data Extraction
#6
Workflows Recording Management
#7
Rule-based Process Automation
#8
Seamless Data Management
#9
Unbelievable pricing - the lowest you will ever find
#10
Everything your business needs - 50 apps, 24/5 support and 99.95% uptime
Join the SaaS Revolution
All-in-One Suite of 50 apps

Unbelievable pricing - $14.99/user

24/5 Chat, Phone and Email Support