Robotic Process Automation System Every Business Needs
A business can set up the software, or a "robot," to record and interpret applications for handling transactions, altering data, eliciting replies, and interacting with other digital robotic process automation systems.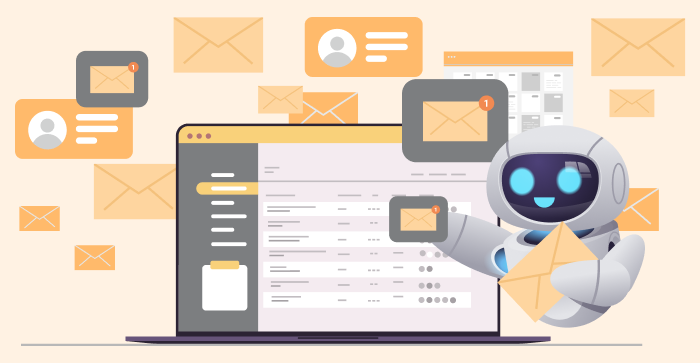 By utilizing structured inputs and business logic, robotic process automation (RPA) is a technical application that automates business activities. RPA can be used to send out a single automated email response or thousands of bots that have been trained to automate specific operations in an ERP system.
Why Companies Adopt Robotic Process Automation System?
Few of us anticipated that digital transformation would become crucial to how firms conducted their daily operations prior to the epidemic. Now, however, businesses that do not prioritize digital transformation are compelled to quickly adopt and install business enablement technology, which frequently results in higher costs and a greater risk of failure.
Early adopters of the technology have the advantage of thoroughly examining the adoption process to make sure that staff members understand how to use the technology to add value. Even though there is now no urgent need to introduce robotic process automation, any new changes require time for an organization to adapt. Because of this, numerous multinational corporations from a variety of industries have already started their RPA journey. According to Gartner, $2.4 billion will be spent globally on RPA services in 2022. The fact that RPA technology is extremely adaptable and can be used in virtually all corporate tasks and industries is another factor in its explosive rise.
Industries Benefited From Robotic Process Automation System
a) Customer Service
The customer service team receives hundreds, or perhaps thousands, of tickets every day. Due to a large number of jobs they must do in a short amount of time, the customer support team's response time frequently falls short of what the consumers expect. The majority of processing time can be greatly reduced and unnecessary delays eliminated by automating customer service with RPA. RPA can be incorporated to provide chatbots the ability to fulfill some consumer requests nearly immediately and turn them into more transactional robotic process automation systems. By giving them access to a variety of back-end applications, it offers customers a self-service option. An UiPath case study showed that Indonesia's Bank Mega was able to complete service requests by automating the manual back-end processes.
b) Financial Operations & Processes
Many tasks within financial processes have a set of rules that the employees must follow, notably for banks and financial service providers. Sorting, compliance checking, data entry, reporting, and other repeated activities are all part of a normal processing workflow. Many of which still need a lot of physical labor but are easily automatable. RPA reduces mistakes while simultaneously enhancing process predictability and enforcing compliance. Here are a few RPA examples and advantages for various financial procedures.
Top 6 Best Robotic Process Automation Systems
1. BotPath
Botpath is a one-of-its-kind robotic process automation system. With RPA, a type of business process automation, anyone may create a set of instructions for a bot to follow. RPA has important commercial benefits, which are discussed in this essay. Increased productivity, accuracy, cost savings, higher ROI, cross-platform integration, better customer experiences, and scalability are all advantages of RPA for businesses. The business operations of the clients are improved by robotic process automation. RPA offers a lot of benefits that a business might use. It is a method that enables you to interact with a digital system to accomplish a business transaction while programming software or a robot to carry out the same tasks as a human.
i) Visual Builder: The Visual Builder can be used by users to create bespoke automation that can be incorporated into applications. Additionally, Visual Builder allows users to retrieve information from external REST services.
ii) Bot Builder: Create complex, high-tech robotic process automation systems and processes at a low cost, and start renovating other approaches quickly and easily. For each of your approaches, we have the robotics, integration, and security features you require.
iii) Workflow Automation: Connect company objectives and the work necessary to support them in one location so you can monitor progress, guide teams, and watch the advancement of initiatives in real-time.
Boost your Productivity with Robotic Process Automation Sign Up 14 Day Trial
2. Keysight's Eggplant
Robotic Process Automation Solutions are provided by Keysight's Eggplant Software to automate the performance of repetitive operations. It boosts output while cutting down on mistakes. Any system, from mobile to mainframe, may be tested using the system's universal fusion engine. It can all be run on Linux, Mac, and Windows platforms. It offers complete workflow automation and can work with other systems to finish the operation.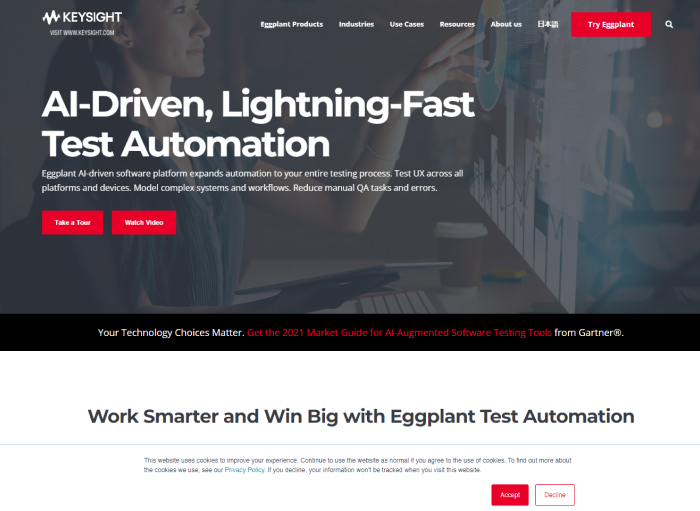 Features:
Data-driven automation features in Eggplant make it possible to link data sources and carry out a job for each entry
Any front-office or back-office application can be automated using Eggplant Functional
The features of Eggplant DAT allow it to both scrape data from the screen and work with any data source
Its extensive verification and validation features ensure that the process was carried out as intended
3. Rapse
Robotic process automation systems like Rapise from Inflectra focus on testing sophisticated applications like MS Dynamics, Salesforce, and SAP. Rapise, currently in its 7th iteration, can automate Web, desktop, and mobile apps and supports hybrid business scenarios. By connecting to the user interface of the apps being tested via Rapise, testers and developers can simulate user behaviors and carry out business operations. Rapise, on the other hand, offers an on-premise solution and is user-friendly for both developers and non-developers.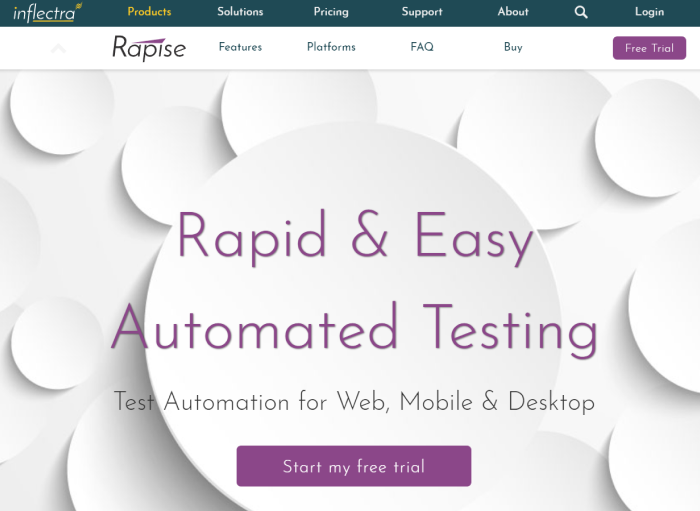 Features:
supports all sizes of automation projects
The capability to record and playback tasks in both analog (coordinate-based) and virtual "Simulated Objects" formats is built-in
Web and screen scraping; desktop and web automation
Rapise Visual Language (RVL), a special code-free methodology, makes it simple to record and maintain automation operations
Processing emails and REST and SOAP calls (Gmail, Office 365, private mail servers)
Offers a platform that is open to improvements and integration
4. Blue Prism
Blue Prism RPA tool offers all essential capabilities. Any platform and any application can use it. Although you need programming abilities to use this application, developers will find it easy to use. These kinds of robotic process automation systems are ideal for medium-sized and large businesses.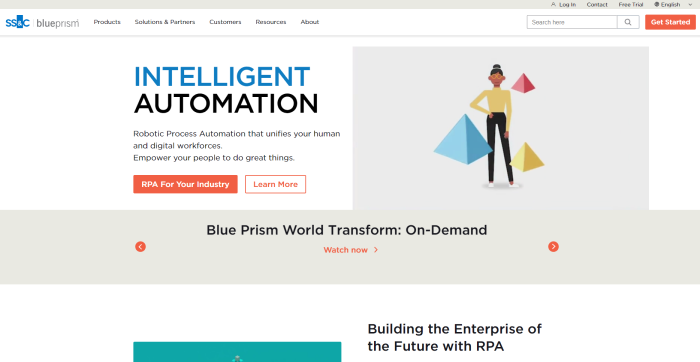 Features:
It provides the deployment model for many environments
Network and software credentials are secured
It is compatible with all platforms
It can be applied to any application
5. UiPath
All fundamental features are offered by UiPath. Citrix is supported by it. Even people who are not developers can utilize it easily. It can manage intricate procedures. And any size firm can benefit from using this technology.
Features:
By controlling credentials, offering encryption, and implementing access controls according to the role, it offers security
It is quicker to automate. Additionally, automation with Citrix is eight to ten times faster
Robotic process automation systems offer a flexible platform
No matter how complex a process is, it can manage any number of them
6. Pega
One of the robotic process automation systems for business process automation is Pega. It is applicable to desktop servers. It solely offers cloud-based products or services. It is compatible with Mac, Linux, and Windows. For medium-sized and large businesses, this solution is ideal.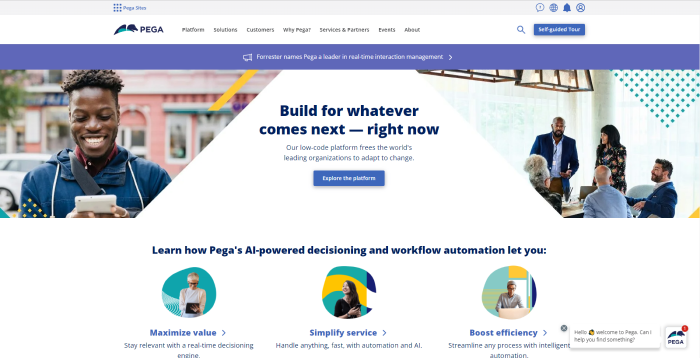 Features:
It will support you as you roll out your solutions to customers
It offers a cloud-based remedy
No execution data is kept in a database; instead, everything is kept in memory
You can distribute the task among desktops, servers, and staff members with this programme
Final Words
Robotic process automation systems are beneficial for businesses with several intricate and different robotic process automation systems that must continually communicate with one another. RPA can be utilized to address an old process platform or application. If your IT infrastructure and business processes are efficient, RPA automation will be a simple tool to utilize to meet your automation objectives.
To save time, money, and effort, choose robotic process automation tools with procedures that need little thought and regular application movement. Speak to our experts to learn more about robotic process automation software and its business process automation.
Why Botpath?
#1
Automated Repetitive Tasks
#2
End-to-End Bot Development
#3
Customized Bot Builder
#4
Unlimited Automated Workflows Management
#5
Automated Data Extraction
#6
Workflows Recording Management
#7
Rule-based Process Automation
#8
Seamless Data Management
#9
Unbelievable pricing - the lowest you will ever find
#10
Everything your business needs - 50 apps, 24/5 support and 99.95% uptime
Join the SaaS Revolution
All-in-One Suite of 50 apps

Unbelievable pricing - $14.99/user

24/5 Chat, Phone and Email Support