Everything You Need to Know About RPA Technology
Undoubtedly, today's organizations place a great value on efficiency. Regardless of the market size or industry area, organizations look for ways to increase productivity by maximizing efficiency. In this article, you will learn the importance of RPA, its characteristics, features, and benefits.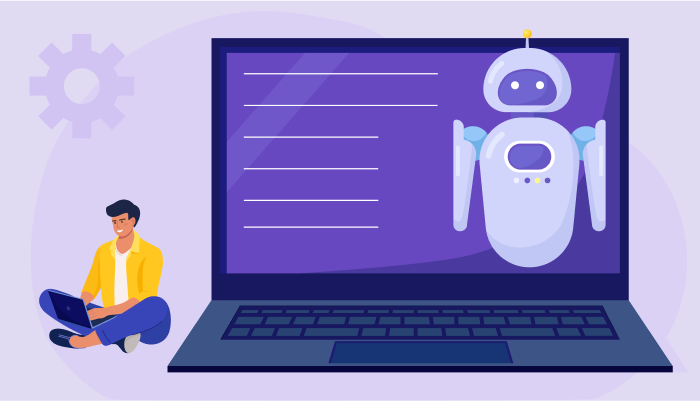 Robotic Process Automation, RPA means a technology that can create, use, and manage software robots that mimic how people interact with computers and software. Software robots are capable of performing a wide range of predefined tasks, including understanding what is on a screen, making the appropriate keystrokes, navigating systems, and extracting and identifying data. However, without the need to stand up and stretch or take a coffee break, software robots can complete tasks faster and more reliably than humans.
Adopting Robotic Process Automation, and RPA technology to corporate tasks is one of the best strategies to make operations effective and lean. The majority of firms rely on time-consuming, obsolete, and duplicated tasks and processes, such as data entry and file access. Businesses that choose to automate these procedures can reduce expenses and increase efficiency.
RPA technology has opened up new opportunities for corporations to take control. Businesses should therefore be astute enough to take advantage of these changes. There are a number of RPA features to consider if you intend to use an RPA system. This blog attempts to provide more information about the RPA tool capabilities that can help businesses run more effectively.
Types of RPA Technology
Robotic process automation systems come in three different flavors.
Attended RPA: This requires little assistance from humans.
Hybrid RPA: This blends attended and unattended RPA.
Unattended RPA: This does not require human interaction.
The most prevalent type of automation, unattended automation, streamlines work by doing background chores like data processing.
Why RPA Technology?
RPA technology has grown in significance as it surpasses conventional automation over time. One of Robotic Process Automation tools' primary benefits is that, due to the savings made over time, automation is more affordable. RPA doesn't interfere with an organization's current systems. It can be used without interfering with corporate operations. In comparison to manual work or traditional automation, benefits are also recognized more quickly.
RPA also has the key benefit of being quite scalable and easily adaptable to dynamic business situations.
Benefits of RPA Technology
Reduces cost - Rapid cost reduction is one of the main benefits of RPA technology. A business can cut costs by up to 30% by automating tasks because software robots are less expensive than full-time employees.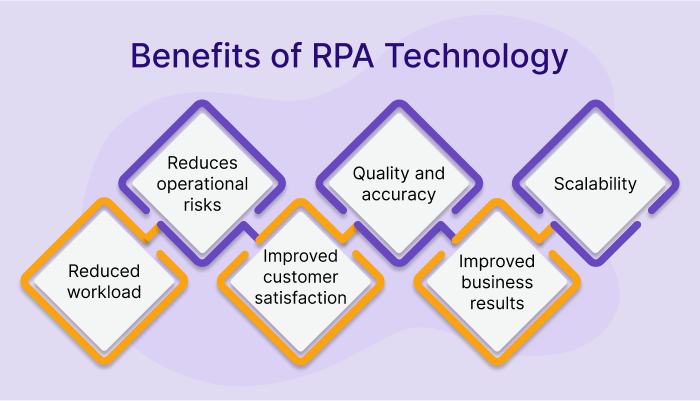 Reduces operational risks - There is a risk of inefficiency and human error when busy labor is outsourced to outside entities by some businesses. RPA technology provides a superior solution because there is a less operational risk because the work is done inside.
Quality and accuracy - Using RPA technology, processes with a high risk of human error can be automated. These bots are dependable, consistent, and capable of non-stop operation.
Scalability - RPA technology enables businesses to easily scale up or down operations in response to changing circumstances and make adjustments depending on other important aspects.
Reduced workload - Employee workloads can be greatly reduced by automating processes like report creation, freeing them up to concentrate on other important activities.
Improved customer satisfaction - Customers receive high-quality material because accuracy is maintained and operational risk is low.
Improved business results - Robotic process automation enhances results that can be automated since workers are concentrating on tasks that provide greater value to the organization.
Boost your Productivity with Intelligent Automation Sign Up 14 Day Trial
Features of RPA Technology
Rich analytical suite - RPA controls automated processes from a centralized console. This console provides basic analytics on robots, servers, workflows, and other topics. It is accessible from anywhere.
Simple creation of bots - By using built-in screen recorder components, RPA technologies make it possible to quickly create bots by recording keystrokes and mouse movements.
Scriptless automation - RPA tools may automate any application in any department and work without the use of coding. Bots can be created by users with little programming experience using an easy GUI.
Security - To secure certain data types and protect against network communication disruption, RPA solutions provide for the design and customization of encryption features.
Hosting and deployment - RPA systems have the ability to automatically deploy hundreds of bots.
In order to access data for repetitive operations, RPA bots can be installed on PCs and deployed on servers.
Debugging - While other RPA programs provide dynamic interaction while debugging, other tools must be stopped from running in order to fix issues. One of RPA's most potent features is debugging.
RPA Services
Data management
Order processing
Processing of salaries and wages
Email processing
Establishing connections to system APIs
Completing forms
Transferring files to folders
Reading and writing databases
Extracting structured data from documents and
Website scraping is just a few of the services provided by RPA.
How Does RPA Technology Work?
Robotic process automation software includes four core stages:
Planning - The processes that will be automated are established at this stage, together with the test objects to be used, the implementation strategy to be used, and a clear road map for the RPA implementation.
Design and Development - You begin creating the workflow automation in this step in accordance with the predetermined plan.
Deployment and Testing - Usually, the bots are executed during this phase. During the deployment, any unforeseen outages will be managed. It is essential to test these bots for flaws and defects to ensure accurate operation.
Support and Maintenance - Constant support makes it easier to spot and fix mistakes.
Key Characteristics of Business Processes That Would Be Well-Suited for Rpa. Here Are the Top Five: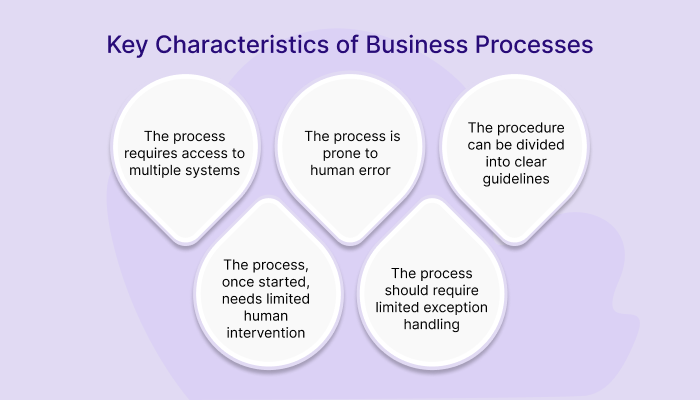 i) The process requires access to multiple systems:
Working across systems utilizing the presentation layer is one of RPA's advantages. Automation actually only worked within a single program before this development. RPA can now switch between desktop windows without any help from a human. Of course, if that's what you really require, RPA can also manage processes that are part of a single program.
ii) The process is prone to human error:
Robots don't make stupid errors; people do. RPA is a natural fit, especially for monotonous tasks like cutting and pasting, where the focus can falter.
iii) The procedure can be divided into clear guidelines:
As already mentioned, robots are excellent at obeying rules, but the rules must be clear. Most transactions should follow the "If X, then Y" rule.
iv) The process, once started, needs limited human intervention:
The most effective business processes for RPA are those that can be completed entirely by a robot, like a payroll or accounting. Many decision-intensive activities, nevertheless, could also profit greatly from even some degree of automation.
v) The process should require limited exception handling:
A process where a robot would frequently report transactions as mistakes or exceptions would not be a good fit for RPA at this time, much like the "unambiguous rules" characteristic. RPA is meant to decrease, not increase or sustain, the need for human attention to these lower processes.
Summing It Up
RPA technology has a lot of potential for changing how firms run. There is no doubt that in the future, the proficiency of an automation system will help every organization around the globe. RPA technology will continue to spread and advance as long as industries are looking for fresh approaches, a greater return on investment, and lower overhead.
RPA is a component of intelligent automation that firmly roots your organization in the 21st century by providing opportunities to operate faster and smarter. Even while RPA technology demands planning, effort, and consideration of the metrics for success, it is now simpler than ever to harness its power.
Platforms like BotPath give your business the resources it needs to get going and room to expand. By incorporating RPA into a comprehensive platform for intelligent automation, you may retire outdated systems and develop a unified approach to business operations and data analysis.
Start assessing the need for RPA in your company right away to learn more about how solutions like BotPath enable intelligent automation.
Why Botpath?
#1
Automated Repetitive Tasks
#2
End-to-End Bot Development
#3
Customized Bot Builder
#4
Unlimited Automated Workflows Management
#5
Automated Data Extraction
#6
Workflows Recording Management
#7
Rule-based Process Automation
#8
Seamless Data Management
#9
Unbelievable pricing - the lowest you will ever find
#10
Everything your business needs - 50 apps, 24/5 support and 99.95% uptime
Join the SaaS Revolution
All-in-One Suite of 50 apps

Unbelievable pricing - $14.99/user

24/5 Chat, Phone and Email Support