8 Benefits of Digitizing Documents For Small Businesses
Using RPA, you can automate tasks. Numerous assumptions have been made about RPA. Discover benefits of digitizing documents for small businesses.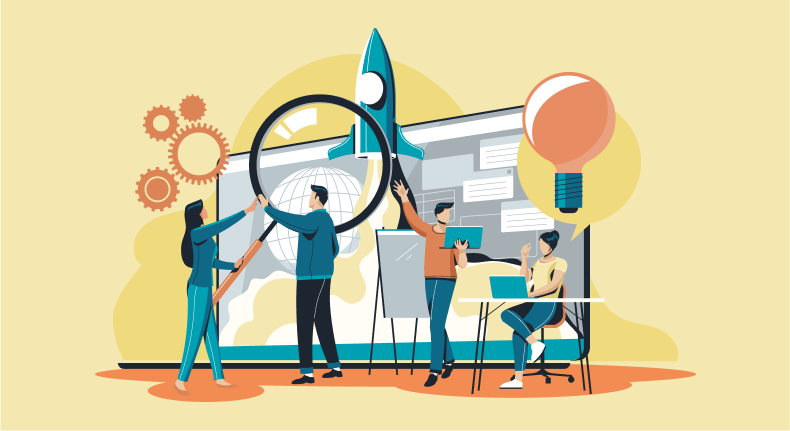 Businesses choose to go paperless for several reasons: to prevent too much paper use. It is also a pledge to cut fewer trees and save the environment. However, in hindsight, digitizing documents also provides convenience to them as all documents can come in handy whenever they need them and wherever they may be.
Benefit of Digitizing Documents
1. Easy Sharing
One of the main perks of digitizing documents is the ease of sharing them. As we are heading towards digitization & traditional paper–works can be a hassle to share because of the need to photocopy them and send the copies through a courier, and the recipient should then be able to read the documents.
Digitizing documents can enable small businesses to share their records in just a few clicks. It becomes easy for them to share and get them to read. Through this, they can allow more people to read their documents without having them to send copies to the recipient.
2. Safe Storage
Another advantage of digitizing documents is that they are easier to store. Since they are on the computer, they will not take up much of the drive-space, unlike bulky papers, and take up a lot of office cabinet space. Additionally, companies can easily back up the files. Small businesses can just store their files on a hard drive and laptops, which can be easily transferred on the internet,carried from one place to another, making it easier to carry around several essential documents in just a few devices.
3. Digital Element Implementation
A common mistake small businesses make is try implement digital elements in their documents, but cannot make it work because they cannot make the process convenient for their clients. Digital components include links, barcodes, RFID chips, and QR codes.
Any small business should maintain constant oversight of its processes and simplify things by automating complicated, end-to-end business processes with data management.
However, digitizing documents can provide small businesses with more opportunities to implement a digital element to their paper documents . The paperless office can also provide them with more opportunities to be more creative with their documents, such as the ease of incorporating multimedia elements in the files.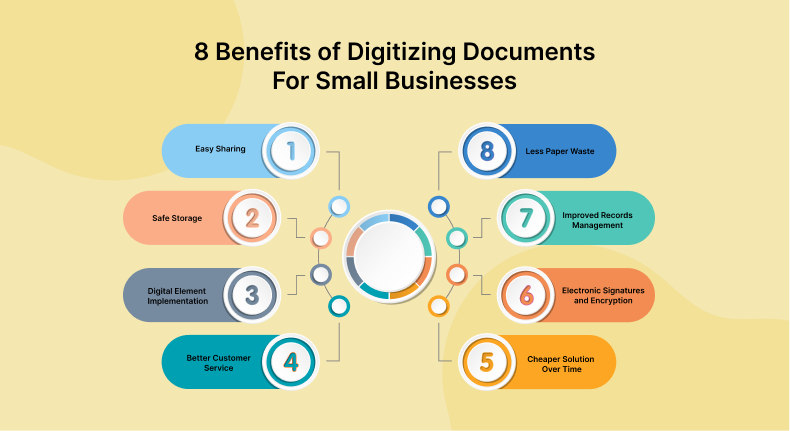 4. Better Customer Service
Any way you look at it, digitizing documents can make small businesses provide better customer service because most of them nowadays are just a click away. A lot of them can be found online.
As a result, small businesses can provide their clients and customers with documents immediately, ensuring most of them are up to date. It can also speed up looking for papers and records, thus making it easier for clients to receive the services they desire.
5. Less Paper Waste
One of the downsides of digitizing documents is that businesses can get lazy and just shove the files into their USBs and hard drives. They can then forget about the files and leave them there for a long time, thus resulting in a lot of digital waste.
However, relegating most of the documents to paperless can also help keep the Earth clean because they will not use too much paper. Paper is one of the prime sources of environmental waste. By cutting it off, small businesses can help save the planet.
6. Improved Records Management
Another advantage of digitizing documents is that they can change how they manage their records. There are many different ways small businesses can manage their records, but paper files can only provide them with a hard copy of the documents.
Regular documents can easily be lost and damaged, which can be a hassle. However, digitizing them can provide small businesses with many benefits that can help improve their records. With complete RPA automation, they can easily store and manage their documents.
7. Electronic Signatures and Encryption
Small businesses can also benefit from digitizing documents because of the ease of signing documents electronically. With this, their clients can quickly sign their documents without going to the office.
Additionally, companies can also encrypt the documents for additional security. With digital signature and encryption, small businesses can provide additional protection for their clients' information, ensuring their papers are secure.
8. Cheaper Solution Over Time
While digitizing documents may be expensive initially, it would save small businesses in the long run. For example, many companies try to keep their expenses by photocopying many papers for their employees.
However, since papers cannot be compressed and can only be printed once, it can cost them a lot of money which can go to other important things. What's more important is that the company can save a lot of money by not paying for courier fees and extra photocopying.
Best Ways to Digitizing Documents for Businesses
There are many ways to digitize documents. However, choosing the best option for your company depends on the number of files to digitize moving forward. From desktop scanners to online services, the best ways to turn paper into data are here.
1. Applications
Evernote is one of the leading cloud-based applications to help small businesses digitize their documents. It has a simple yet efficient layout that makes it easy for users to do their tasks. The application is the one that many small businesses rely on to digitize their documents. One great feature that Evernote users can enjoy is the automatic alerts it provides.
For instance, it can provide users with an alert when they have not used a particular application for a long time. Evernote also has password-protected folders and can be accessed by any device, whether it has internet access.
2. Online Services
Google Drive is one of the most popular cloud storage applications that make the task of digitizing documents an easy one. It has a very intuitive interface, making it easy for users to learn how to use the application in just a few minutes. The best thing about Google Drive is that it can sync all the documents you want to digitize across all your devices. Using Google Drive, for sure, can help save a lot of time and effort.
3. Desktop Scanners
There are many applications available for downloading to the computer. They can help enable small businesses to automate their document-scanning process. They are a very convenient way to digitize documents because they can save users time. Small companies can start using a desktop scanner, and small companies can start by scanning their documents and editing them using their preferred RPA software.
What is Document Scanning?
Document scanning is simply the process of digitizing documents. It is used to scan a hard copy of a document, whether sent or received, and convert it into digital files.
Choosing to Go Paperless
If you are one of those small businesses interested in digitizing documents and going paperless, then it is best to do so right away. Do not wait anymore because you will only have more documents that you need to digitize as time goes by.
In addition, digitizing documents can help you provide better customer service to your clients and prevent paper waste. Even if you just scan a few copies, you will eventually have a lot of files, which can be pretty intimidating to store.
You may also opt to use a paperless office service to help you accomplish the digitizing documents process. In the end, you and your business can benefit from the paperless office.
What Happens After Digitizing Documents?
After you have digitized your documents, you will have to choose how you want to store them. You can opt to keep them in folders, or you can use a digital file system, wherein you can organize all your files properly. After storing them, it is now time for you to decide whether you will keep them on your computer or external storage devices. You can also choose to keep your files on cloud storage. The good thing about digitizing documents is that you will have an easier time looking for the files you want to use because they are all in one location and are very organized.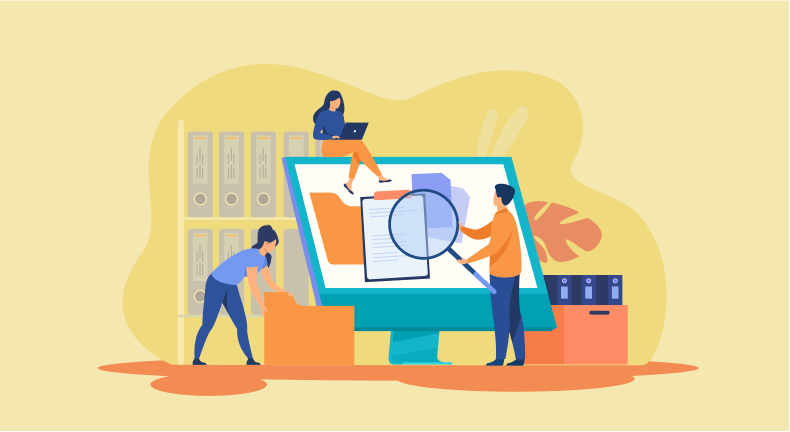 1. Using a Data Keying Service
If you are a business that is worried about spending a lot of time digitizing documents and storing them, you can opt to look for a data keying service to help you. A data keying service can help you save time by converting your documents into digital data for you. It will scan all your documents, convert them into digital files, and store them in a highly efficient system. Using a data keying service will ensure that you do not need to do anything except point out the number of files you want to digitize. It will make you speed up the process of digitizing documents and save you a lot of time and effort.
2. Using Robotic Process Automation Software
Robotic process automation software can help small businesses automate the whole process of digitizing documents. The software can also help them with their paperless project. Going paperless can help companies save a lot of time and money and help them save on a lot of paper.
By digitizing documents, small businesses can improve their customer service. They can also prevent paper waste and easily store all their files in digital storage. Going paperless can help small businesses save a lot of time and effort.
Summming it Up
If you cannot imagine your business without paper, it is time to move on and digitize your documents. Digitizing documents is not too difficult and can save time and effort. All you have to do is look for an easy and affordable way to do it. With the help of software, you can easily convert your documents into digital files and store them easily.
If you want to save a lot of time, it is best to use a data keying service. They can help you create digital files in just a few minutes. However, the best thing that you can do is automate the whole process of digitizing documents. It can help you avoid wasting a lot of time. It can also help your business reach its full potential.
BotPath believes in the idea of automation for businesses. Our automated data processing service helps enhance company development while boosting productivity altogether. Allow us to simplify how things work in the industry by deploying task bots to handle everything seamlessly. Get started today by checking out our contact center automation
Why Botpath?
#1
Automated Repetitive Tasks
#2
End-to-End Bot Development
#3
Customized Bot Builder
#4
Unlimited Automated Workflows Management
#5
Automated Data Extraction
#6
Workflows Recording Management
#7
Rule-based Process Automation
#8
Seamless Data Management
#9
Unbelievable pricing - the lowest you will ever find
#10
Everything your business needs - 50 apps, 24/5 support and 99.95% uptime
Join the SaaS Revolution
All-in-One Suite of 50 apps

Unbelievable pricing - $14.99/user

24/5 Chat, Phone and Email Support