New Concepts in Automation to Explore, for Superb HR Support
Human resource automation today is also seen as a way to free up time for one-on-one interactions, team management, and strategy meetings.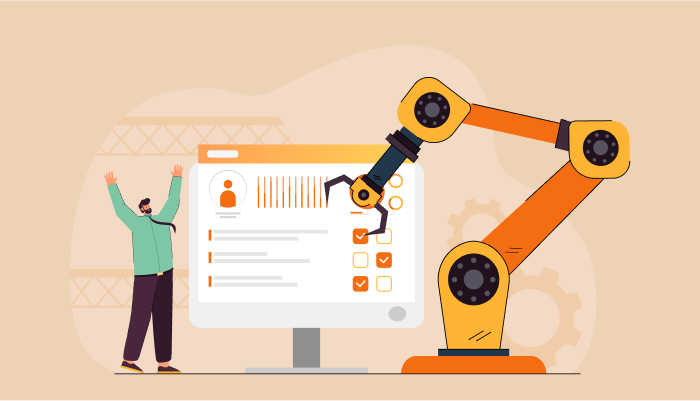 In any company, the Human Resources (HR) department is responsible for connecting and nurturing your most valuable asset, your workforce. Thankfully today, as modern technology rises, we are seeing automation as HR's most powerful ally in 2022. According to G2, there are at least 21 different types of HR software, including programs for employee wellness, bonuses, and time tracking.
Beyond the traditional work of HR software, automation now could be a valuable tool for your company. With automation technology, you are bound to improve your current HR processes multi-fold, facilitate remote working, and automate chores so that everybody is on top of their tasks with timely productivity always doable .
In recent news, many different organizations all over the world have recently invested in cloud-based SaaS solutions to help with hiring, labor management, payroll administration, and other duties. Because of these advantages, HR professionals are able to do more, connect their systems, and scale their enterprises with built-in and third-party automation features.
Human resource rpa automation today is also seen as a way to free up time for one-on-one interactions, team management, and strategy meetings. These are benefits that allow companies to enhance their productivity and streamline processes without difficulties.
Read on to learn about the latest automation concepts you must apply for superb HR support.
Newer HR-Functions of Automation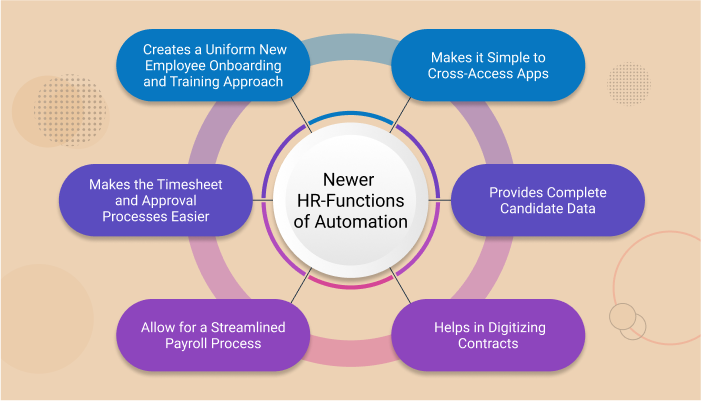 1. Creates a Uniform New Employee Onboarding and Training Approach
HR automation is ideal for the onboarding process. Human resource managers have the option of automating the distribution of new recruit forms, documentation, and training materials.
For example, a Slack bot is used by some firms to introduce new staff and send training materials.
It begins, like with the bulk of these HR automation tools, by defining your most critical operations. List the procedures you use to onboard new employees, standardize them as far as possible while retaining their uniqueness, and look for ways to speed up or automate them.
2. Makes the Timesheet and Approval Processes Easier
If staff is required to submit timesheets, the procedure should be automated first. There are numerous time-tracking solutions available to help you approve data in the proper format and reduce the time spent looking for missing or erroneous data.
Time tracking is included in several accounting systems (such as Xero) and project management software. When I Work and Toggl are two notable instances (such as Teamwork). Time tracking software integrated with other programs may save you time.
3. Allow for a Streamlined Payroll Process
Payroll can be time-consuming for HR departments as well. HR automation helps with payroll efficiency.
Gusto, a payroll software used in the United States, oversees payroll, taxes, and filing. To simplify your HR software stack, it connects with time tracking, company operations, and expenditure management.
4. Programs Job Advertisements to Help You Target the Best Prospects
Using Joveo technology to conduct programmatic job advertisements automates your recruitment efforts and allows you to attract more qualified candidates with less time, effort, and money.
5. Provides Complete Candidate Data
Data enrichment is another benefit of HR process automation. Workable's People Search feature is popular among many firms because it integrates various data sources for each candidate to provide a thorough view of their talents, social footprint, and contact information.
Recruiters may use apps like DiscoverOrg to quickly populate their databases and applicant tracking systems with job names, roles, and technical responsibilities. This is a fantastic strategy for discovering and developing the finest candidates.
6. Helps in Digitizing Contracts
HR makes it simple to automate contract signatures. You can collect signatures, electronically sign documents, and automate follow-ups with HelloSign and DocuSign. These solutions make remote document access easier and faster.
7. Makes it Simple to Cross-Access Apps
Providing relevant applications to new hires is a time-consuming element of onboarding. Worse, user credentials for corporate tools may change. LastPass makes this possible. Each new employee has quick and easy access to the necessary applications.
8. Track Trips and Expedites Time-off Requests
Human resources do not have to bear the responsibility of tracking and awarding vacation time. People HR and absence.io help to speed up vacation management and approval.
9. Collects Performance Data for Decision-Making
With automation, it is finally feasible to collect data automatically using performance management systems such as 15Five, Google Forms, and Typeform.
Regular feedback yields the most information for internal development, personal advancement, and management optimization. This can be used to determine promotions, award nominations, and training budget allocation.
10. Helps with Documenting Expenses Submission and Approvals
Do not allow expense requests to accumulate. Create a well-documented protocol that the team may follow to ensure the smoothest possible process. To submit expenses in the format required by HR, use spend data management software such as Spendesk or Concur.
11. Provides an Organized Employee Inquiries Mailbox
Back is an excellent tool for combining employee requests from Slack and email. Search for HR-related inquiries in one place and produce responses to frequently asked questions. Examine the reporting to determine where your HR department is spending the most time.
Here are some staff demands to centralize (and organize using tags or filters):
Solicitations for education and travel
Internal IT assistance
Concerns about Human Resources
Concerns and observations
Concerns about the law
12. Performs Periodic Performance Reviews
Now, the HR department and managers of your company can use 15Five to expedite performance assessments and employee feedback. With it, you can send automated check-ins, one-on-ones, and "best self-reviews" to your staff to evaluate their performance.
13. Sends Notification of Benefit Eligibility
Messages can be triggered by automation if your company gives awards based on criteria. Increase a worker's vacation time after one year, or give great performance stock options.
You may automate messages to HR and management about performance reviews and salary raises.
14. Simplifies the Offboarding Process
Offboarding, like onboarding, streamlines HR operations. Although it is critical to keep this highly tailored and to speak with each employee individually, standardized data-gathering processes can be included, even if they are discussed in person at the departure interview.
15. Integrates Human Resources Tools and Practices
When automating HR operations, consider integrating your technological stack. This covers native integrations as well as data connections between applications.
What Your Company can get from HR Automation?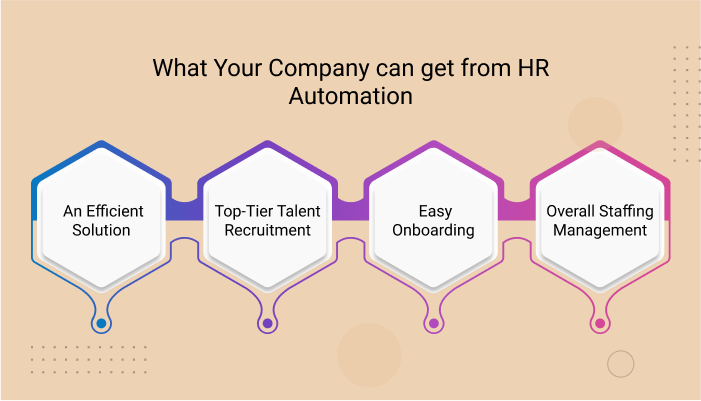 1. An Efficient Solution
To store and exchange data, businesses frequently employ file-sharing applications like Google Docs or Dropbox. These technologies allow teams to collaborate on a shared document only once. They do not provide versioning of documents or lifecycle management.
HR departments require a solution for centralized and faster file access. A document management system that meets this need frees teams from long email chains and status inquiries. It indexes critical document information and protects sensitive employee data with secure access rights and data encryption. Employees can self-serve via e-forms, authorized employee searches, electronic signatures, and portal connections.
We look at the benefits of automating HR operations and how departments can eliminate paper.
2. Top-Tier Talent Recruitment
Managers can start the hiring process with a simple online form. A digitized procedure also centralizes job applications and coordinates communications among HR, managers, and candidates. A digital method like RPA connects all team members. All HR professionals may make job listings, receive and index resumes automatically, and use processes to route applications for review, schedule interviews, and collect applicant feedback.
Following an interview, failed applicants can be notified through email. When a candidate accepts a position, a digitalized system may begin the onboarding and provisioning processes to ensure compliance with business regulations and a smooth start for new employees. The recruitment procedure has been improved.
3. Easy Onboarding
The onboarding process begins when an applicant accepts a position. E-forms can pre-populate new hire data, removing the need for new employees to fill out a plethora of paper forms. HR departments can use electronic forms to capture all pertinent employee information and populate tax forms, benefit forms, and other employee forms.
Human resources departments might develop a checklist of critical onboarding requirements, such as employment acknowledgment, confidentiality agreements, and employee handbooks. All new employees will acquire the appropriate software and hardware on their first day thanks to the automation of provisioning. DocuWare wants new employees to feel welcomed and a part of the team right away.
4. Overall Staffing Management
When it is time for a performance evaluation, an automated notification procedure can notify both new and existing employees. The employee's appraisal and answer can be traced all the way to the end. HR departments can personalize performance evaluation forms, set deadlines, and collect and store data.
When an employee leaves a company, a document management solution can generate a separation e-form with all exit documents that must be signed and corporate property that must be returned. This process is automated to ensure that nothing is overlooked and that the exit procedure is carried out without jeopardizing security.
Conclusion
Imagine a world where all processes are streamlined and we become more effective and productive. With a sigh of relief, automation is here to help in this ,to pinpoint problems and replace them with logical solutions that benefit organizations as a whole. With these HR automation tools, we are able to improve our tasks, nurture the staff, and reach goals whether daily, monthly, or annually. With automation, everybody wins!
Are you looking for an automated bot creator software? BotPath can give your company, staff, and clients a seamless experience of sophisticated robotic processes. Give us a call today to learn more about our program!
Why Botpath?
#1
Automated Repetitive Tasks
#2
End-to-End Bot Development
#3
Customized Bot Builder
#4
Unlimited Automated Workflows Management
#5
Automated Data Extraction
#6
Workflows Recording Management
#7
Rule-based Process Automation
#8
Seamless Data Management
#9
Unbelievable pricing - the lowest you will ever find
#10
Everything your business needs - 50 apps, 24/5 support and 99.95% uptime
Join the SaaS Revolution
All-in-One Suite of 50 apps

Unbelievable pricing - $14.99/user

24/5 Chat, Phone and Email Support