Best Robotic Process Automation Software in 2023
There are various uses for robotic process automation software, and it may automate processes as straightforward as processing online payments and as complex as carrying out regular security assessments. Organizations can reduce operational costs and focus on optimizing business operations by automating repetitive tasks.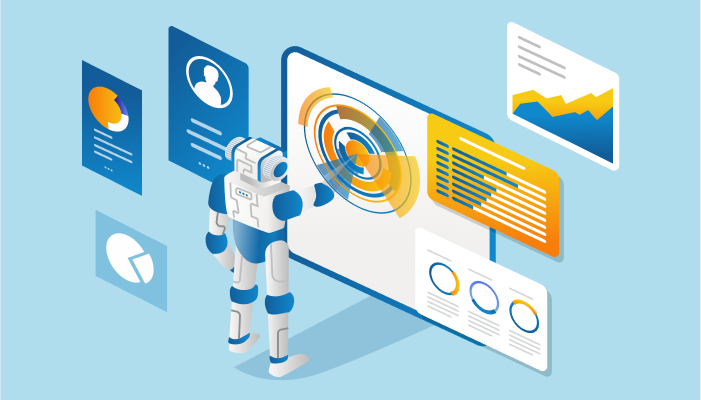 Robotic process automation software enables businesses to automate business operations so that personnel may concentrate on higher-value jobs. Organizations can create and use software "robots" that imitate human behavior with this software. These robots are capable of extracting data, identifying and processing information on a screen, and taking the appropriate steps to move through robotic process automation systems.
How to Choose the Best Robotic Process Automation Software?
i) Ease of Bot Setup
A bot should be set up in a variety of ways for various personalities. Business users must be able to select their typical programs with a mouse pointer and click while a recorder logs their operations. A low-code environment should enable citizen developers to create bots and business rules. Finally, genuine automation code that uses the APIs of the robotic process automation software should be able to be created by qualified programmers.
ii) Attended vs. unattended
When a business user wants a bot to complete a clearly specified task, such as "convert this graphic into text and put it on the clipboard," some bots can only be useful if they run on-demand (attended). Other bots, like those, that "conduct due diligence on each loan application received through the website," make more sense if they run in reaction to an event (unattended). Both types of bots are necessary.
iii) Cloud Bots
Robotic process automation bots ran solely on user computers and business servers when they first began. Companies have however set up cloud virtual machines for usage by bots as IT estates have expanded into the cloud. As opposed to running on Windows, macOS, or Linux VMs, several robotic process automation businesses have recently created "cloud-native" bots that operate as cloud apps leveraging cloud APIs. Even if your business hasn't made a significant investment in cloud applications yet, it undoubtedly will in the future, making this feature highly desirable.
iv) Scalability
You may encounter scalability problems when your robotic process automation software expands across the organization and takes on more automation, particularly if unattended bots are involved. Scalability problems are frequently mitigated by cloud implementations, whether native, virtual machines, or in containers, especially if the orchestration component can add more bots as needed.
Here's a List of Robotic Process Automation Tools
1. BotPath
Botpath is an improved kind of robotic process automation software that uses artificial intelligence (AI), is template-based, and lets you save records of your workflow.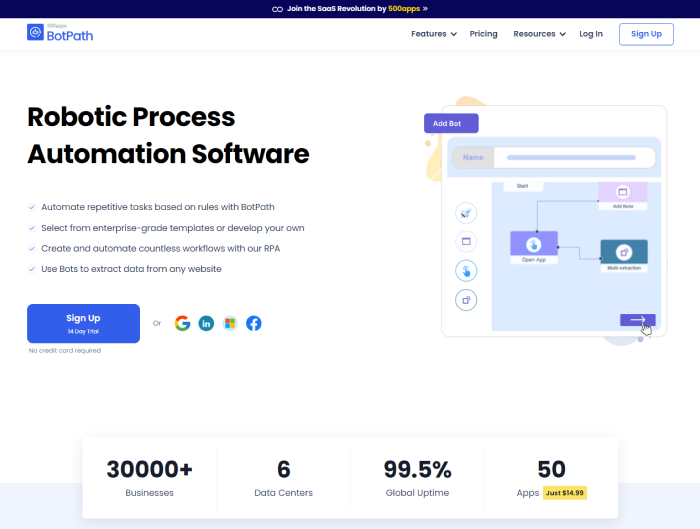 Visual Builder: The Visual Builder can be used by users to create bespoke automation that can be incorporated into applications. Additionally, Visual Builder allows users to retrieve information from external REST services.

Bot Builder: Create complex, high-tech systems and processes at a low cost and start renovating other approaches quickly and easily. RPA technology - have the robotics, integration, and security features you require.

Workflow Automation: Connect company objectives and the work necessary to support them in one location so you can monitor progress, guide teams, and watch the advancement of initiatives in real-time.

Data Management: Have a consolidated source for high-quality data, reusable, consistent data conceptual frameworks, and elements that can be shared instead of attaching each automation to a different enterprise system.

Chrome Extension: Connect company objectives and supporting activities in one location to manage initiatives in real-time, assess progress, and keep teams on track.
2. UiPath
The amazing and user-friendly robotic process automation software UiPath was developed with the aim of streamlining, accelerating, and optimizing digital transformation for businesses. It enables users to swiftly and efficiently automate their manual operations.
UiPath employs AI to automatically analyze a company's operations and choose the ones that should be automated.
Key Features:
Workflow Drag and Drop
Advanced Screen and Data Scraping Options
Image and Textual Automation
3. BluePrism
In more than 170 countries and 70 industry verticals, Blue Prism, a global pioneer in enterprise robotic process automation software and intelligent automation, is revolutionizing how its users operate by eradicating inefficiencies and allowing their clients to devote important time to grow their businesses.
The low-code automation platform combines RPA with AI and enhanced cognitive capabilities to provide clients with a digital workforce that is AI-equipped.
Key Features
Intelligent Automation Platform (IAP)
Design Studio
Digital Workforce
4. Automation Anywhere
To achieve significant productivity improvements, increased staff engagement, and improved customer experiences, Automation Anywhere uses intelligent software bots to complete repetitive, laborious, and manual operations. The analysis of a company's processes identifies those with the most potential for automation ROI, enabling the firm to focus its transformation efforts.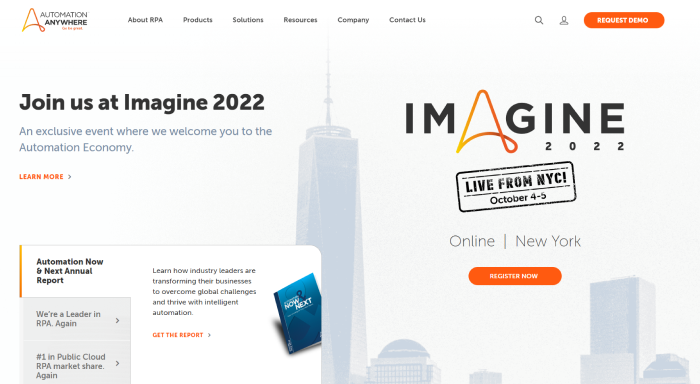 Key Features
Bot Store
Robotic Process Automation Workspace
IQ Bot
5. Kofax
To help companies alter their information-intensive business procedures and increase staff productivity while enhancing the customer experience, Kofax offers intelligent automation solutions. Two Kofax products—Kofax Robotic Process Automation software and Kofax TotalAgility—deliver automation. Kofax Robotic Process Automation software offers end-to-end automation, allowing staff to concentrate on work with higher value.
Key Features
Low-Code Design Environment
Analytics and Process Intelligence
Intelligent Screen Automation
6. Pega RPA
To facilitate digital transformation, Pega robotic automation software integrates intelligent automation, customer engagement, and artificial intelligence capabilities. Allowing bots to automate tedious tasks, enables employees to maximize their time and concentrate on the consumer.
The tool also eliminates the need to browse through numerous programs, bridging the gaps between various systems.
Key Features
Attended Robotic Process Automation
Unattended Robotic Process Automation
Auto-Balancing
7. Microsoft Power Automate
Microsoft Power Automate gives customers the ability to easily automate repetitive and boring operations utilizing flows, drag-and-drop tools, and hundreds of prebuilt connectors.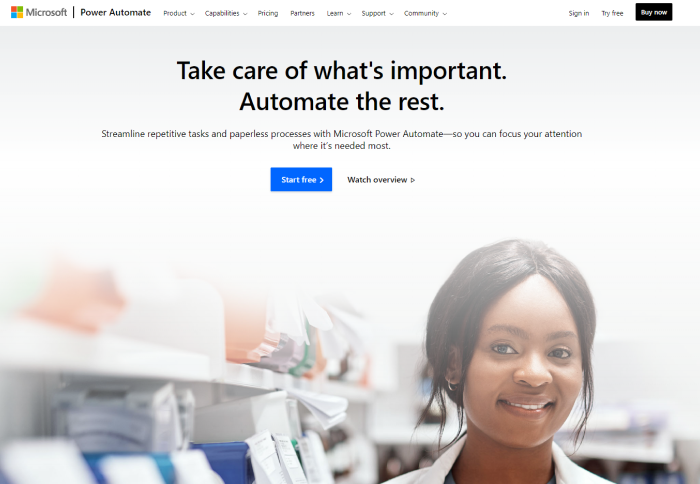 Power Automate offers Process Advisor, which records and visualizes whole processes and offers suggestions for chances for automation.
Key Features
Attended and Unattended RPA
Auto-Scaling With Hosted RPA Bots in Preview
Ready-to-Use Robotic Process Automation Examples
8. Creator
With the use of a tool called Creator, you can create the software from scratch without having to write any complicated code. It makes it simple to transform business logic into a useful process. Incorporated into this program are QuickBooks, PayPal, and Zapier.
Key Features
Role-based control functionality
Insightful reports
Drag and drop code with ease
Supported devices are Android and iOS
9. Agenty
Data scraper, text extraction, and optical character recognition is called Agenty. You can construct an agent with just a few mouse clicks thanks to it. You can reuse all of your processed data for your analytics with the aid of this application.
Key Features:
Integrate with Dropbox and secure FTP
Automatic email update
Activity log for all events
Boost your business performance
Custom logic with ease
10. OpenConnect
The productivity of the workforce is optimized by OpenConnect, which automatically identifies, streamlines, and enhances service operations. You can address all kinds of operational and competitive difficulties using the tool.
Key Features
Server-based architecture
Dashboard views
Centralized governance
Secure, encrypted data
Connectivity capabilities
Final Words
Global enterprises aspire to improve productivity and efficiency in the post-COVID age by automating laborious and error-prone operations. The demand for robotic process automation tools has increased as a result. You might have comprehended each Robotic Automation software described here as well as how to choose the best Robotic Process Automation software and tools. You are responsible for selecting the ideal robotic process automation software for your requirements.
Why Botpath?
#1
Automated Repetitive Tasks
#2
End-to-End Bot Development
#3
Customized Bot Builder
#4
Unlimited Automated Workflows Management
#5
Automated Data Extraction
#6
Workflows Recording Management
#7
Rule-based Process Automation
#8
Seamless Data Management
#9
Unbelievable pricing - the lowest you will ever find
#10
Everything your business needs - 50 apps, 24/5 support and 99.95% uptime
Join the SaaS Revolution
All-in-One Suite of 50 apps

Unbelievable pricing - $14.99/user

24/5 Chat, Phone and Email Support