Everything You Need to Know About Intelligent Automation
Intelligent automation improves output quality, customer service, and productivity to provide firms a competitive edge. It aids in boosting turnover and improving staff morale.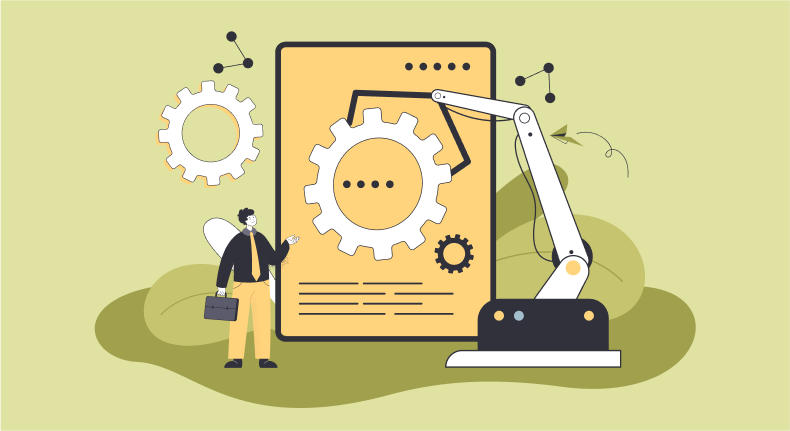 With the fast-paced digital world, we're in right now, it's crucial to stay competitive. One effective way to do that is to embrace technology, as every business will be driven by technology soon enough.
Robotic Process Automation Software can boost data collection, improve security, reduce errors, and eliminate repetitive tasks. Digitizing and improving your efficiencies are two things to be competitive. However, many business owners today make the mistake of prioritizing technology over people.
Intelligent Automation
Intelligent automation can automate processes, reduce control costs, and deliver outcomes. It also enhances the ability of your business to streamline, improve and integrate business processes. This can only be done effectively by the implementation of the right RPA software.
We're in an age where information is becoming increasingly more important. That's why it's crucial to build a system that processes information properly. RPA software can be the answer to your systems' requirements, thus increasing productivity and automation.
Misconceptions About Intelligent Automation
There are common misconceptions about Intelligent Automation that some business owners are not aware of.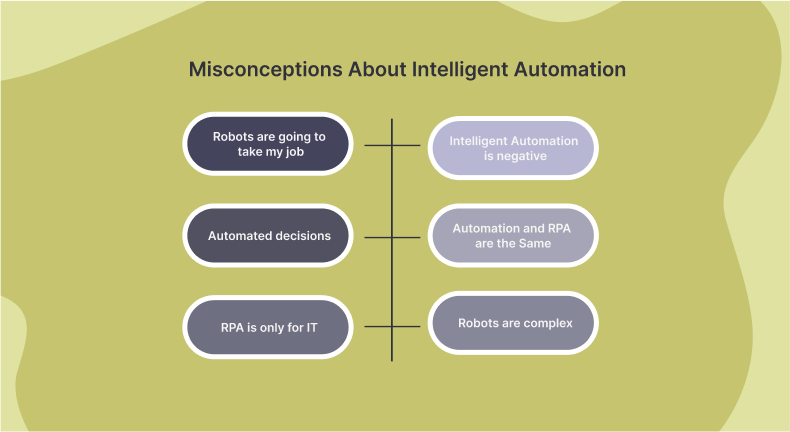 1. Robots are going to take my job
Automation, intelligent or not, doesn't eliminate jobs. It, instead, reduces mundane and repetitive tasks, allowing business owners and employees to focus on higher-value tasks.
2. Intelligent Automation is negative
It's a common misconception that automation is only good for replacing humans. Businesses that implement automation tools will see automation as a way to streamline and improve.
3. Automated decisions are not good for business
Automated decisions are a great way of streamlining and increasing productivity. It also improves the quality of decisions because of the reliable nature of robots.
4. Automation and RPA are the Same
Automation is a broad term that encompasses a lot of technologies. RPA, on the other hand, is a subset of automation. It's a software program, which is specifically designed for automating repetitive tasks for a lower cost.
5. RPA is only for IT
Although RPA software is mainly designed for IT, it can also be used to automate business processes. It's not just a tool for IT, it's a tool that can be used by everyone.
6. Robots are complex
One of the biggest misconceptions about intelligent automation is that robots are complex. RPA software is built to be intuitive, eliminating the traditional complexity of robotic automation tools.
Intelligent Automation is the Future
The truth is, automation and intelligent automation are the future. If you want your business to thrive in this digital world, then you must automate.
One of the best ways to do that is by automating your systems, thus improving productivity and efficiencies. RPA software is one of the ways to do that.
RPA software can help your business in ways that no other technology can. Some of these include:
1. Streamlines Business Processes
One of the most compelling reasons to automate is to streamline your business processes. After all, you don't want to spend most of your time in doing the same task again and again, right?
RPA software can improve your business's efficiency. It can also help your business save time and resources by automating the processes your employees have to do repeatedly.
2. Security Enhancements
One of the biggest concerns of business owners today is security. In this world where attacks are becoming increasingly sophisticated, you need a system that can help you minimize security risks.
RPA software can help in that matter. It's a great way to protect against bad actors and cyber attacks because of the security enhancements. This can only be done effectively if you have the right RPA software.
3. Eliminates Manual Errors and Process Bottlenecks
As tedious and repetitive as it may seem, the data collection process needs to be done. However, this can be a daunting task and can be prone to errors.
RPA software can automate this process, and it can prevent these errors from happening. It can do this by improving the quality of your data as well since robots are pretty consistent.
4. Check and Balance
Automation is a great way to check and balance your systems. It's a great way to ensure that your systems are working in tip-top shape and to ensure that you're on the right track.
RPA software can do that by automating processes. It can also reduce errors, thus allowing your systems to work smoothly.

RPA software is a great tool for increasing productivity and business efficiency.
Summing it Up
The world today is always changing. It's a fast-paced world that demands quick and fast solutions. It's a world where you need to adapt to the changes in order to survive. That's why it's crucial to adopt intelligent automation.
The future of your business is in the hands of technology, thus you need to embrace it. The first step to embracing technology is by automating your business. RPA software can be the answer to your automation needs.
Get the best RPA tools for your business today. BotPath is trusted by over 30,000 businesses all over the world. Get started now.
Why Botpath?
#1
Automated Repetitive Tasks
#2
End-to-End Bot Development
#3
Customized Bot Builder
#4
Unlimited Automated Workflows Management
#5
Automated Data Extraction
#6
Workflows Recording Management
#7
Rule-based Process Automation
#8
Seamless Data Management
#9
Unbelievable pricing - the lowest you will ever find
#10
Everything your business needs - 50 apps, 24/5 support and 99.95% uptime
Join the SaaS Revolution
All-in-One Suite of 50 apps

Unbelievable pricing - $14.99/user

24/5 Chat, Phone and Email Support