Impact of Process Automation in Healthcare Industries
Process automation in the Healthcare Industry is a step in the right direction of providing better patient care. This article explains the same in detail.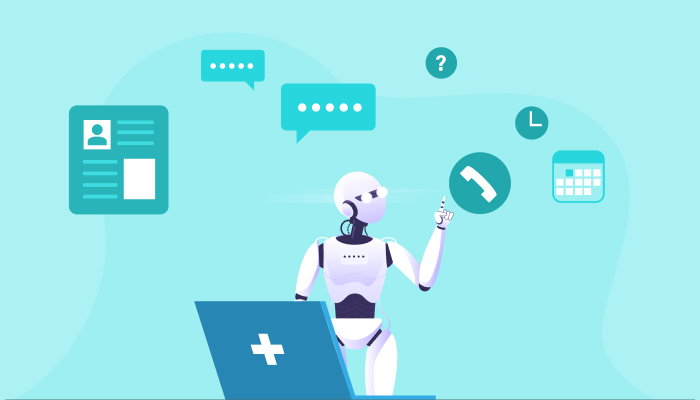 From enhancing the patient experience, Service time to improving medical procedures, technology is the driving force behind the advancement of the healthcare system. Intelligent automation has helped a lot to digitize healthcare, speed up procedures, and achieve previously inconceivable efficiencies.
As a result, patients receive better care, staff members are relieved of their manual complications, and healthcare establishment owners have a better overview of their operations.
Positive Impact of Upgrading Healthcare Processe Automation Technology
1. Improving Patient's Experience
Superior patient experience is one of the top priorities of the industry. Hospitals are aware that they will only succeed if they can make patients feel at ease as they receive treatment.
Automation contributes to this end. The technology ensures that the appropriate medicines are readily available. It also makes sure that patients are attended to promptly. With medical robots and automation, healthcare professionals will be able to provide better care and achieve better outcomes.
2. Preventing Medical Errors
Human Error are a tad more detrimental, especially with Medical Sciences as they have significant influence on the Patient health. With automation, medical errors are prevented. Prescription errors are no longer a worry. Furthermore, medical robots can be programmed to carry out tasks at specific times. This ensures that medical professionals do not repeat an operation.
In addition, they will also be able to focus on other activities while their robots perform their duties.
3. Enhancing Workplace Productivity
Automating medical processes increases workplace productivity. Medical professionals can focus on their core responsibilities while on-demand drug dispensers and medical robots perform their functions.
As such, employees no longer need to waste time doing manual work. This means that they will have more time to perform tasks that require higher cognitive skills.
Moreover, medical professionals will be able to interact more effectively with patients. This is because they will focus on care delivery and patient monitoring.
4. Data Access and Transfers
Robotic process automation software also allows for data access and transfers. This helps healthcare professionals maintain a holistic view of the patient's condition. Even more importantly, access to data contributes to the decision-making process. The data allows for a more in-depth analysis of the patient's condition.
Furthermore, data security has been a concern for healthcare professionals. As the industry digitizes, it is more important than ever to have a secure platform for data access and transfer. This is where automation comes in. Robots can be programmed to access the data and prevent unauthorized access.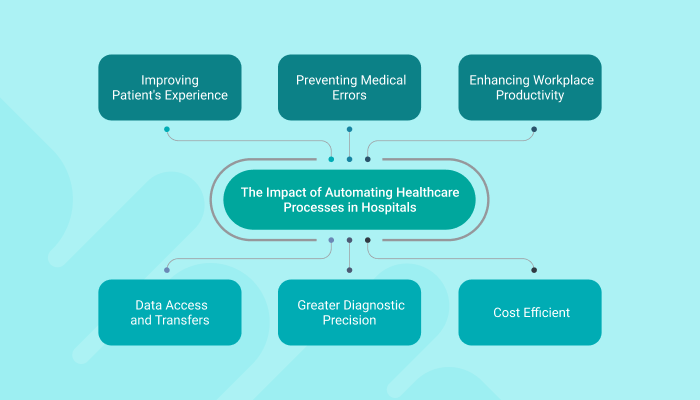 5. Greater Diagnostic Precision
For medical professionals, using automation for medical processes is an opportunity to achieve greater diagnostic precision. This is because the technology enables them to make more informed decisions. The technology enables doctors to access patient records and perform digital examinations.
The data from online patient records and examinations can be accessed in real-time. Furthermore, the data can determine the most appropriate treatment for the patient.
6. Cost Efficient
Automation allows health systems to be more cost-effective. Compared to manual processes, the process automation technology is cheaper to implement. It also reduces the human capital required to run the healthcare system.
Additionally, hospitals can save on the cost of hiring staff to handle administrative tasks. This technology further reduces the operating costs of the system by improving workflow and lessening bottlenecks.
7. Synergies
Medical robotic and automation technology has emerged as a critical enabler in digital healthcare. This is because it mitigates the effects of digital disruption on the industry. The technology enables hospitals to deliver the quality and level of care that patients expect in the digital age.
In turn, this enhances their reputation and helps them to remain competitive. Hospitals will be able to use technology to provide comprehensive healthcare services in the future.
8. More Effective Communication
Hospitals have a lot of patients to manage. Effective communication is needed to ensure that everyone is on the same page.
With RPA automation technology, hospitals can improve communication. The technology enables them to reach out to more people while, at the same time, informing them of various developments.
Conclusion
It is no longer surprising to hear about hospitals automating their core processes. This is because automation contributes positively to the advancement of the healthcare system.
Automating healthcare processes is a step in the right direction of providing better patient care. The technology has led to the digitization of hospitals in various ways, from improving patient care to enhancing workplace productivity. For this reason, automation is a game-changer, which has become a critical enabler in the advancement of healthcare. The technology has the potential to advance digital healthcare even further.
Automated bot software is available today to aid in-hospital processes, but you need to know what provider to invest in. Like any digital tool, you must assess if your chosen provider can fit all your needs.
Botpath is a type of RPA software that you can use to effectively improve your healthcare establishment's systems. If you're looking for the right automated bot software to handle your various workflow needs, Sign up with us today!
Why Botpath?
#1
Automated Repetitive Tasks
#2
End-to-End Bot Development
#3
Customized Bot Builder
#4
Unlimited Automated Workflows Management
#5
Automated Data Extraction
#6
Workflows Recording Management
#7
Rule-based Process Automation
#8
Seamless Data Management
#9
Unbelievable pricing - the lowest you will ever find
#10
Everything your business needs - 50 apps, 24/5 support and 99.95% uptime
Join the SaaS Revolution
All-in-One Suite of 50 apps

Unbelievable pricing - $14.99/user

24/5 Chat, Phone and Email Support