Role of Robotic Process Automation in Real Estate
RPA means - A technique for using software robots to automate certain business activities. It performs tasks sequentially without human intervention by mimicking human actions.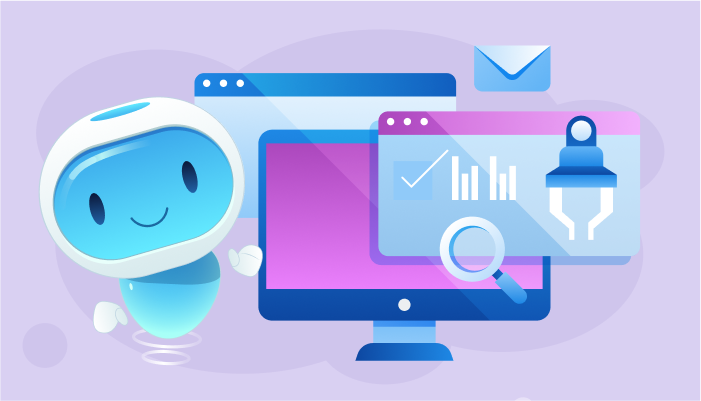 There are numerous time-consuming, repetitive operations carried out every day in a commercial organization. It didn't take long for it to become clear that these organizations would benefit if the time spent on these duties could be allocated for something more useful. The idea of robotic process automation in real estate was introduced in order to complete all these activities faster and with greater accuracy than ever before. All these repetitive operations that a person performs on a regular basis are mechanized by a robot using RPA. It does a task by precisely following the stated steps laid down by a person and does it without human involvement.
Challenges in the Real Estate Industry
Organizations in the real estate sector encounter difficulties, much like those in all other traditional businesses. Real estate companies struggle to increase the effectiveness of their back-office operations, which is one of their main challenges.
It can take a lot of time and effort to complete tasks like:-
Processing invoices
Data extraction and
Document management
The majority of real estate organizations surely place a high priority on the above-mentioned responsibilities, but it is undeniable that these jobs will take up a sizable amount of employee time and work.
Businesses in the real estate industry are always looking for ways to make the above-mentioned procedures more effective. Along with lowering the cost, real estate companies also want to speed up the turnaround time for these operations.
Robotic process automation in real estate is one of the easiest ways for real estate organizations to accomplish this. Robotic process automation in real estate will make it possible for businesses to easily automate time-consuming, repetitive processes that require a lot of human resources and labor.
Use Cases of Robotic Process Automation in Real Estate
Here are some of the most widespread procedures that robotic process automation in real estate may streamline for the real estate industry.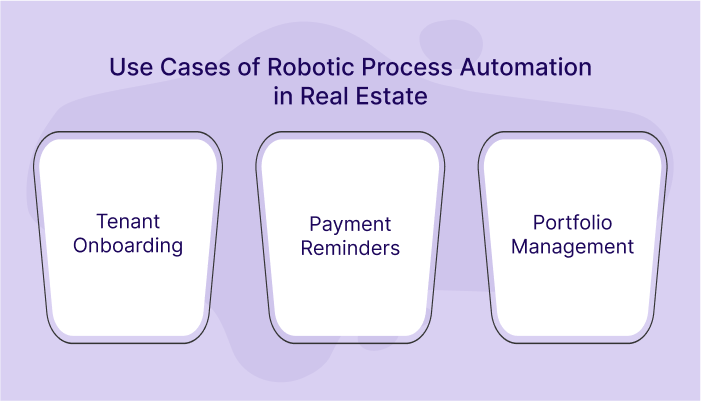 1. Tenant Onboarding
A potential client may be rejected as a result of a negative initial experience. In that instance, the potential tenant can agree to a lease with another landlord. Tenant onboarding involves a number of laborious manual activities that take time and may give customers a negative experience.
RPA bots can be programmed by real estate companies to harvest and process data for handling rule-based operations such as tenant admission. The following are some examples of how robotic process automation in real estate is used throughout the tenant onboarding process.
Creating a new application for the tenant
Criminal background checks
Employment, income, and reference verification
Approval or disapproval of the tenant
2. Payment Reminders
The majority of real estate companies concur that managing properties with late payments is a tedious, emotionally exhausting, and monotonous task. The good news is that using RPA bots to automate rent payment reminders can help you avoid stress. When automating rent payment reminders, businesses should think about setting up an RPA bot to monitor incoming payments and remind tenants who haven't paid.
3. Portfolio Management
The method or technique of managing real estate assets for the purpose of boosting and maintaining the property's value is referred to as portfolio management. Real estate companies will be able to accomplish this by managing various assets or by buying or selling specific portfolio items. Realtors can simply list the rented or sold-out properties from their business system thanks to robotic process automation. Businesses will also be able to update data across numerous websites to improve the exposure of their properties.
Boost your Productivity with Robotic Process Automation Sign Up 14 Day Trial
Benefits of Implementing RPA in Real Estate
After talking about the significance and function of robotic process automation in real estate, it is now time to explore the benefits that robotic process automation in real estate may provide when used in the industry.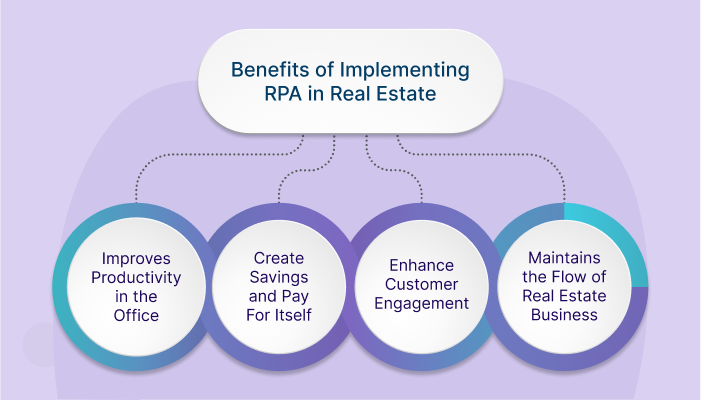 Here are some advantages:
i) Improves Productivity in the Office
Each agent may complete more tasks in a single working day thanks to robotic process automation software. It makes it easier to recover complex data for quick modification or presentation. Relieves agents to concentrate on work
Business Process Automation tools allow the agents to focus on expanding client outreach and completing things that are extremely valuable to the business while the bots handle crucial duties in the background.
ii) Create Savings and Pay For Itself
Robotic Process Automation in Real Estate enables the automation of a significant portion of computer-based processes that must be carried out by business agents, resulting in a significant return on investment for the organization. Additionally, robotic process automation systems open the door to reducing personnel costs and pay savings.
iii) Enhance Customer Engagement
Robotic Process Automation in Real Estate streamlines customer communications while preserving the personalized nature of real estate services. Additionally, it facilitates prompt client data recovery and automatic reminder delivery.
iv) Maintains the Flow of Real Estate Business
The outcomes from the real estate business will be consistent because RPA bots don't make mistakes or take breaks while working. To fully automate the business process, robotic process automation in real estate still has a lot of potential applications that need to be explored.
Businesses in the real estate industry are constantly seeking ways to improve each process's efficiency, cut costs, and improve timing. The simplest method to accomplish these objectives is through implementing robotic process automation in real estate sector. RPA bots can help businesses automate repetitive, menial processes that take a lot of time, money, and human resources.
As was already said, implementing RPA technology can provide the real estate industry with a number of advantages and benefits. Because they may be completed quickly in a digital setting, RPA bots can improve the performance of numerous operations for novices. Precision in data input and many other jobs will increase with the use of RPA bots because there won't be any interruptions or mistakes.
The most important benefit of implementing robotic process automation in real estate industry, despite all the advantages and advantages it offers, is that it frees up time for employees and staff who would otherwise have to spend their valuable time on laborious duties. This means that the staff members can be transferred to any other crucial sections of your company that call for greater focus and ingenuity on the part of their people.
Summing It Up
Botpath is a Robotic Process Automation software. Anyone can build a set of guidelines for a bot to follow with RPA, a form of business process automation. RPA offers significant business advantages, which will be covered in this essay. Businesses benefit from RPA in terms of increased productivity, accuracy, cost savings, higher ROI, cross-platform integration, better customer experiences, and scalability. The business operations of the clients are improved by robotic process automation.
RPA in real estate offers a lot of benefits that a business might use. It is a method that enables you to interact with a digital system to accomplish a business transaction while programming software or a robot to carry out the same tasks as a human.
Why Botpath?
#1
Automated Repetitive Tasks
#2
End-to-End Bot Development
#3
Customized Bot Builder
#4
Unlimited Automated Workflows Management
#5
Automated Data Extraction
#6
Workflows Recording Management
#7
Rule-based Process Automation
#8
Seamless Data Management
#9
Unbelievable pricing - the lowest you will ever find
#10
Everything your business needs - 50 apps, 24/5 support and 99.95% uptime
Join the SaaS Revolution
All-in-One Suite of 50 apps

Unbelievable pricing - $14.99/user

24/5 Chat, Phone and Email Support