What Is RPA? Features, Benefits, Why Do Businesses Need RPA?
In this article, you will understand what is (RPA) Robotic Process Automation, the features of RPA, and its business-centric benefits.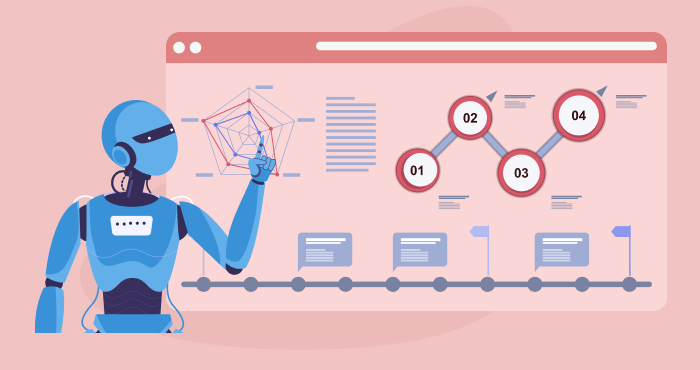 RPA means the practice of automating business processes with robot assistance to minimize human participation (RPA). Explaining each of these terms one by one
Robots are robotic beings that mimic human behavior.
A process is a series of actions that results in productive activity. Creating tea or cooking your preferred food, for instance.
Any activity carried out by a robot without human involvement is considered to be automated.
In conclusion, robotic process automation is the act of imitating human activities to carry out a series of tasks that result in meaningful activity without the need for human participation.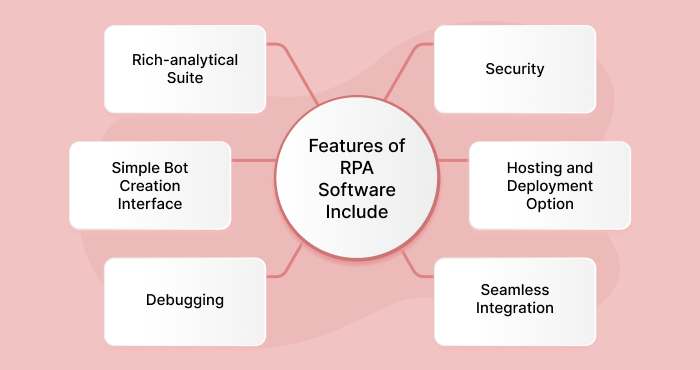 Features of Robotic Process Automation (RPA)
i) Rich-analytical Suite
The performance of the robot workforce is discovered using the sophisticated analytical suite that is included with RPA software. Most enterprise-level RPA can be controlled and monitored from a single console. This console offers fundamental metrics on robots, servers, workflows, and more and can be accessed from anywhere. Users may track processes and identify problems thanks to the full operation analysis, which also aids in simplifying upcoming workloads. Since everything is built-in and ready to use out of the box, this RPA solution doesn't need any integration.
ii) Security
A large number of users will probably want access to the RPA solution if a business relies heavily on automation. Here, having robust user access management tools is essential. Role-based security is therefore supported by RPA tools to ensure action-specific authorization. Additionally, a lot of robotic process automation solutions allow for the design and customization of encryption features to secure certain data types and protect against network connection interruptions. To prevent malicious tampering and guarantee the accuracy of historical record compliance, the complete automated data, audits, and instructions accessed by the bot are encrypted. The enterprise RPA systems also provide thorough logging of each task completed as well as human actions.
iii) Simple Bot Creation Interface
RPA tools make it simple and quick to create bots by recording keystrokes and mouse movements using built-in screen recorder components. The ability to manually construct and edit bots using the Task Editor is offered by several RPA solutions.
iv) Hosting and Deployment Option
The RPA system is designed to provide customers with cloud, virtual machine, and terminal service deployment options. The cloud deployment option is the most popular among customers because of its scalability and flexibility. The RPA technology is strong enough to deploy robots in groups of hundreds automatically, which is another benefit. This feature includes an agentless configuration and prevents runtime updates and issues with central server synchronization by safeguarding client configuration and bot deployment overlap.
v) Debugging
From a development standpoint, RPA's capacity to go through a process and make adjustments on the fly is its biggest advantage. Some RPA tools need to be stopped from operating in order to modify and repeat the process. While debugging, some RPA tools enable dynamic involvement. Additionally, it enables testing various situations without starting and stopping the program by altering variable values. This dynamic method of debugging enables on-the-fly development and issue resolution in a production setting without requiring process adjustments.
vi) Seamless Integration
In the digital infrastructure of enterprises, the core corporate RPA integration is fused with a variety of third-party apps. RPA systems offer unmatched flexibility in assessing the performance of the digital workforce thanks to seamless integration.
Boost your Productivity with Robotic Process Automation Sign Up 14 Day Trial
Benefits of Robotic Process Automation (RPA)
It's simple to slip into the trap of solely thinking about RPA automation in terms of how much faster, easier, and more dependable it makes things. What do these phrases actually mean for your company? A greater understanding of what these robotic process automation systems have to offer is necessary in order to be able to speak intelligently about how they deliver genuine value. When your CTO or manager inquires as to why RPA is necessary, be prepared to provide a detailed response. Start by going over the seven best advantages that modern smart AI-powered RPA tools offer.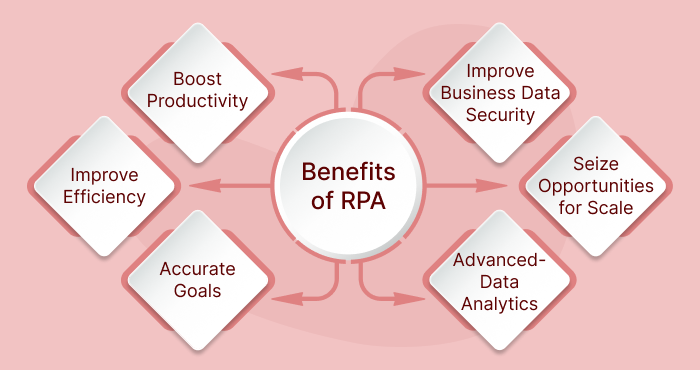 i) Boost Productivity
The advantages of RPA automation are based on a straightforward idea: let robots handle the activities that are inconvenient, and let human workers focus on their areas of expertise. When they have to, employees have significantly less time to dedicate to work that makes use of their expertise. We spend time on mindless operations like copying and pasting data between corporate platforms. Staff can't get as much done in a day because manual chores take a lot of time and energy. RPA modifies this tenet. Software robots can boost a team's capacity for completing work by 35% to 50% if they are configured properly for a process. They can also work more quickly, reducing the time it takes to process data by 30% to 50%. You may easily do more with the same amount of time when low-level and back-office work responsibilities are divided between humans and robots.
ii) Improve Efficiency
Increased productivity is crucial for many reasons other than just preventing people from spending too much time on monotonous jobs. RPA tools combined with human labor result in lower costs. Think about implementing robots in a division like accounts payable or receivable where employees routinely need to transfer data from many portals into your company's business systems. Processing costs decrease and per-employee output rises as a result of RPA's accelerated processing speeds and fewer costly errors. The typical savings from these efficiency gains range from 25% to 50%.
iii) Accurate Goals with Reliable Consistency
What if human error no longer played a role in some of your company's most crucial workflows? Accounts payable mistakes frequently cause real, unforeseen expenditures for a company. A transposed digit in a PO number could allow your team to unintentionally duplicate invoices, resulting in extra payments for your company. When you automate, it's possible to obtain 100% error-free data correctness.
iv) Improve Business Data Security
Business leaders' biggest worry regarding the possible usage of Robotic Process Automation tools is how it will affect operational risk. Given how frequently data leaks and breaches occur, management may be worried about the security of these technologies. However, the risk of leaks between platforms is only marginally present when your team carefully maintains and precisely sets RPA settings. A well-developed and maintained solution should be used to increase security confidence. RPA offers advantageous potential for lowering the number of human touch points required by organizations to process personal information in regions with tight personal data regulations. You can accomplish compliance and make the application of governance principles easier if you facilitate this retreat and minimize contact with sensitive data.
v) Seize Opportunities for Scale
RPA has a distinct benefit in workflows with erratic volume. A company might, for instance, get more orders at a certain time of the year. Without automation, the company might have to onboard. They may hire temporary staff or delegate other tasks to employees in order to handle the information. Robots have the ability to scale up and down quickly to handle any amount of labor.
vi) Advanced-Data Analytics
You won't know what you don't know until your new robots allow you to begin collecting precise information regarding process efficacy. The usage of RPA helps to identify process gaps and places where improvements are still needed in various situations. These gaps typically reflect the need for advanced and intelligent automation that goes beyond simple robotic process automation software and point to a lack of both human and software resources.
vii) Customer Service Experience
RPA is becoming more prevalent in customer service, particularly where it is combined with other technologies like AI-powered natural language processing. However, the main advantages in this field right now come from reducing employee involvement in monotonous jobs. Employees must devote a significant amount of time and focus to providing excellent customer service, which is a high-maintenance, high-commitment process. Staff can focus more on clients by spending less time on routine administrative activities. Resolution times will quicken, disagreements will be fewer, and customers will be more satisfied with your business as a whole.
To Wrap Up
RPA technology has a lot of potential for changing how firms run. There is no doubt that in the future, the proficiency of an automation system will help every organization around the globe. RPA will continue to spread and advance as long as industries are looking for fresh approaches, a greater return on investment, and lower overhead.
Why Botpath?
#1
Automated Repetitive Tasks
#2
End-to-End Bot Development
#3
Customized Bot Builder
#4
Unlimited Automated Workflows Management
#5
Automated Data Extraction
#6
Workflows Recording Management
#7
Rule-based Process Automation
#8
Seamless Data Management
#9
Unbelievable pricing - the lowest you will ever find
#10
Everything your business needs - 50 apps, 24/5 support and 99.95% uptime
Join the SaaS Revolution
All-in-One Suite of 50 apps

Unbelievable pricing - $14.99/user

24/5 Chat, Phone and Email Support