Get Handson With RPA Robotic Process Automation
This article will help you to understand how RPA Robotic Process Automation works and the applications of RPA in various industries.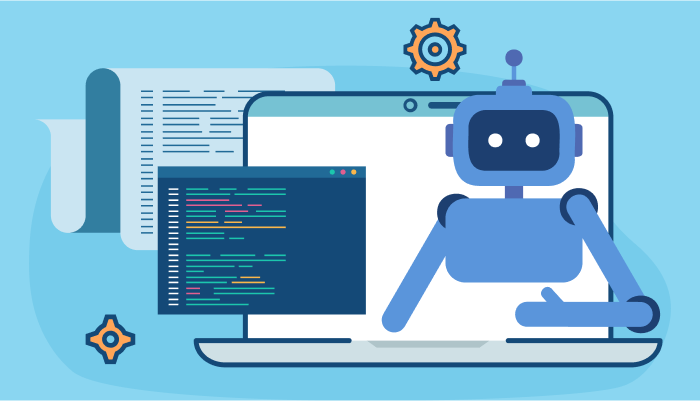 RPA means a technology that automates business processes by using structured inputs and business logic. A business can set up the software, or a "robot," to record and interpret applications for handling transactions, altering data, eliciting replies, and interacting with other digital systems using RPA Robotic Process Automation tools. RPA situations range from sending out thousands of bots, each trained to automate tasks in an ERP system, to sending out an automated email answer.
How Does RPA Robotic Process Automation Work With Your Existing Systems?
RPA Robotic Process Automation software functions by gaining access to data from your current IT systems. RPA tools can integrate with your applications in a variety of ways.
Connecting to databases and business online services in the backend is one possibility.
Another is through desktop or front-end connections, which can be made in many ways.
And the best way is dependent upon your business and the needs the solution will meet.
Your automation can connect to systems and services that are managed by a process automation server by using backend connectivity. The most frequent application of this is unattended automation, in which your software robots perform back-office duties like processing insurance claims at scale with little to no employee involvement.
Front-End RPA Integrations
There are a number of front-end connections your automation can make with desktop programs and other tools to complete the task. Similar to a human operator, a front-end automation can read, write, and collect events directly from the target application's user interface.
People glance at the screen, identify the components based on their appearance and labeling, and respond accordingly.
How Does RPA Operate?
By identifying each constituent according to its characteristics and technology family, and by examining its hierarchy and structure.
Controlled user interface connectivity is an additional method of connecting to desktop components. The program owner's hidden fields and controls, which include information that is invisible to the naked eye, can increase its strength. One example of this data is an account number.
Your process automation solution's other tools might offer more features. For instance, several NICE automation systems provide capabilities for surface connectivity. That entails having the capacity to extract data from distant applications, PDFs, and photos.
How Do These RPA Approaches Work?
The layered approach divides various process automation components into various levels, each of which is in charge of particular functionality. Process architects are required for some parts, whilst configures can handle other aspects. This method of designing workflow automation facilitates development and may also make automation simpler to comprehend.
Your process layer is at the top, and then there are lower-level subprocesses that can be nested inside of higher-level processes. Objects, or processes for particular tasks, are formed from yet another layer of components or screen interactions and are one layer down. The more you descend, the more the logic can be carried over from one system and procedure to another.
Here's How AI-powered RPA works
Optical character recognition, text analytics, and machine learning are examples of related technologies that are used in this type of Ai-powered automation. Cognitive automation may use unstructured data sources like scanned documents, emails, and letters, where attended and unattended RPA excel with operations that use data from structured databases.
To assist in the automation of more complicated business processes, cognitive automation uses Optical Character Recognition (OCR), chatbots, and machine learning technology. With machine learning, the automation process has the capacity to pick up new skills, increase its capacities, and continuously enhance some facets of its operation.
You will soon be able to independently map, recognize, and automate processes using AI. By studying how human personnel handle exceptions in automated processes, AI can also teach robots how to handle them.
Applications of RPA in Business
According to studies, between 70 and 80 percent of tasks are rule-based, making them candidates for automation using RPA Robotic Process Automation tools. Although there are several chances to use robotic process automation systems in different enterprises, just a few significant company sectors and functions have a track record of successfully using RPA Robotic Process Automation.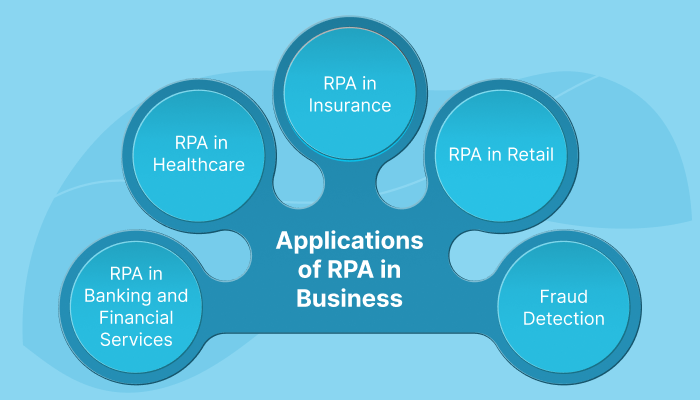 1. RPA in Banking and Financial Services
One of the earliest sectors to use automation was the banking sector. RPA Robotic Process Automation is now widely used by big banks to automate tasks including anti-money laundering, handling consumer inquiries, account opening, and KYC research. These procedures have a lot of time-consuming rule-based tasks, which makes it possible to evaluate the benefit of automating them quickly.
Reconciliations, report production, and numerous regulatory compliance activities are additional banking and financial services where RPA Robotic Process Automation is used.
2. RPA in Healthcare
Since customers' health and well-being depend on accurate and compliant internal processes, accuracy and compliance are crucial for healthcare organizations. To improve information management, insurance claim processing, payment cycles, and prescription management. The largest hospitals in the world adopt RPA technology for nurse management, inventory management, and other operations; which leads to fewer errors and a better patient experience.
3. RPA in Insurance
Another sector with several repetitive tasks that are amenable to automation is the insurance sector. Insurance has already automated some use cases with success, albeit being slower than banking to do so. Numerous functions related to
Claims processing
Policy management
Underwriting procedures and
Regulatory compliance is among them.
4. RPA in Retail
Retail businesses are making significant investments in automation to improve the experiences of both customers and employees.
5. Fraud Detection
Order and warehouse management
Processing of client feedback and
Customer Relationship Management is common RPA Robotic Process Automation uses in the retail sector.
RPA Use Cases
Every sector has some operations that can be automated with RPA Robotic Process Automation. Here are just a few examples: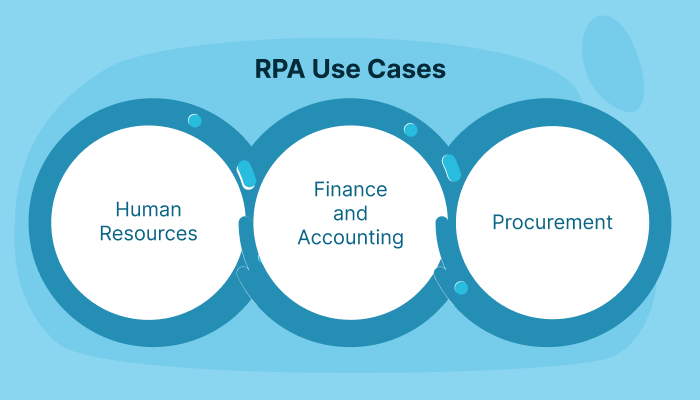 i) Human Resources: HR processes include a lot of information management and standardization across many systems and applications, which makes them a good fit for automation.
ii) Finance and Accounting: Since the operations in this sector are largely rule-based and necessitate a high level of accuracy and speed, there are numerous chances for automation.
Some common RPA Robotic Process Automation use cases in this area are order management, billing, accounting, and reconciliation.
iii) Procurement: Procurement is a great candidate for automation because of the structured form of the papers and data used in the procedures.
Applications of RPA Robotic Process Automation here include invoice processing, purchase order management, and contract management.
Boost your Productivity with Intelligent Automation Sign Up 14 Day Trial
Let's See How RPA Bots Work
The most obvious advantage of bots is that they eliminate enormous volumes of tedious tasks, but software tools also have another superpower. That is the capacity to expand swiftly and simply. It is useful for quarterly and annual reports, compliance checks, and various seasonal marketing.
You'll need to be familiar with working with variables, conditions, and loops because these are typical language constructs used in programming computer programs.
The fields in the data that can be changed are referred to as variables. They could be files, names, numbers, yes-or-no values, etc.
RPA Business Process Automation bot developers can design branched scenarios with the aid of conditions. If/then and if/else conditions are the most fundamental.
A bot can be instructed to repeat particular operations until the required conditions are met using the command loop. Additionally, you should be aware that you don't necessarily have to create RPA Robotic Process Automation bots from scratch. The first option is to recycle some of the already-existing ones, which is advised because it increases investment returns.
Second, at specialized bot marketplaces that are frequently provided by RPA Robotic Process Automation software manufacturers, you can browse for ready-made bots.
Summing It Up
Hyper Automation is the newest catchphrase for where RPA Robotic Process Automation technology is headed. The concept is to automate increasingly complicated commercial operations that currently depend on human knowledge input.
Not only does automation make it possible for business operations to become more "digital". But it also alters the nature of work itself, paving the way for more sophisticated and intelligent company augmentation and transformation. RPA Robotic Process Automation essentially marked the beginning of a new era of employment.
Why Botpath?
#1
Automated Repetitive Tasks
#2
End-to-End Bot Development
#3
Customized Bot Builder
#4
Unlimited Automated Workflows Management
#5
Automated Data Extraction
#6
Workflows Recording Management
#7
Rule-based Process Automation
#8
Seamless Data Management
#9
Unbelievable pricing - the lowest you will ever find
#10
Everything your business needs - 50 apps, 24/5 support and 99.95% uptime
Join the SaaS Revolution
All-in-One Suite of 50 apps

Unbelievable pricing - $14.99/user

24/5 Chat, Phone and Email Support