5 Ways Intelligent Automation Improves Employee Engagement
One of the methods that are now being used to drive employee engagement is Intelligent Automation. Also known as cognitive automation, this system is used to automate end-to-end business actions and processes, and works with employees to ease up their workload, allowing them to improve their delivery and efficiency. This makes the employee work processes faster and easier, giving them more time to improve their creativity and be more productive, which inadvertently has a positive impact on customers' experience and the business as a whole.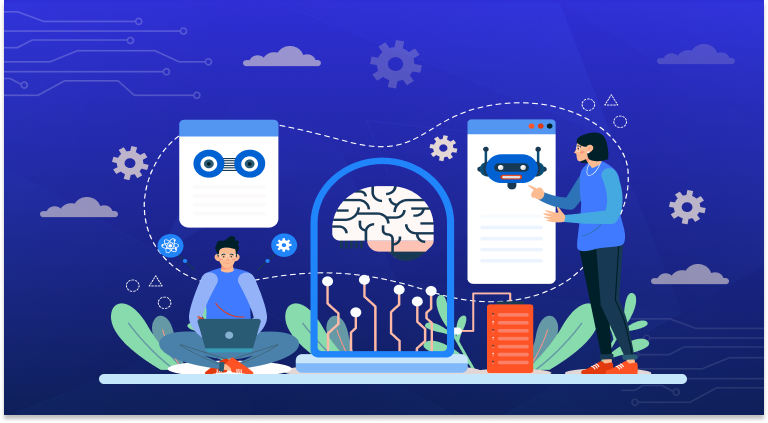 As we progress through the 21st century, the model of traditional work is rapidly giving way to modern ideas and systems, such as remote work. There are now billions of workers operating with each other from all over the world. However, many of the changes that were existent in traditional work models are still very relevant. Moreover, new challenges have arisen through the transition and inclusion of the new ideas and systems and the data management issues that come along. Many of these problems are related to the experience of employees in their work environment.
Over the years, there have been several developments to make businesses work better and improve their products and service. What nobody realized was that these developments were focused on the customers and clients of the business, so much so, that employees' welfare and experience in the workspace were severely neglected.
Now, in light of the pandemic and the massive transition to remote work systems, many companies are scrambling to improve their employee experience. These companies have realized that having a great employee experience is just as important as having a great customer experience, just like this quote by Denise Lee Yawn, a contributor at Harvard Business Review "Customer Experience and Employee Experience are now two of the driving forces of business"
One of the methods that are now being used to drive employee engagement is through rpa Intelligent Automation. Also known as cognitive automation, this system is used to automate end-to-end business actions and processes and works with employees to ease up their workload, allowing them to improve their delivery and efficiency.
This makes the employee work processes faster and easier, giving them more time to improve their creativity and be more productive, which inadvertently has a positive impact on customers' experience and the business as a whole. However, before we get into the discourse, you must understand the basics of what we will be examining; Intelligent Automation.
What is Intelligent Automation?
This is simply a working system that involves combining employees and technology such as machine learning to automate end-to-end processes used in businesses. It helps the employees to process and delivers their work better and faster. In general, it is very useful to improve the experiences of customers and employees concerning the products and services that the business offers.
An example of Intelligence Automation is the use of technology by businesses for their procure-to-pay processes. In this example, process automation will help businesses by selecting vendors via machine learning, sending product and service orders to these vendors, organizing payment through robotics, and sending information about the transaction such as invoices to an employee for processing and conclusion.
What are the Challenges of Employee Engagement?
Employees all over the world are enjoying their work and duties less and less every day. Productivity and efficiency levels are dying while the stress and anxiety rates are increasing. The numbers support this, and the numbers do not lie. This can be optimized with workflow automation.
According to a report by Harvard business school, 89% of the participants said that their work-life is getting worse. A report by Gallup supports this statement with their report that 85% of employees located all over the world do not enjoy or flourish at their jobs. Another survey carried out by LinkedIn's Glint reported that the rate of employee burnout incidents experienced an increase of 33% in 2020.
Why is this happening? There are no particular causes because the work environment varies from business to business all over the world. However, there is something that many of the companies experiencing these issues have in common; low rates of employee engagement.
A report by Smartsheet stated that "Over 40% of workers surveyed spend at least a quarter of their workweek on manual, repetitive tasks, with email, data collection, and data entry occupying the most time. Many of these workers are stuck on boring, manual repetitive tasks and it is draining their creativity and productivity.
Only an estimated third of workers have access to Intelligent Automation and bot creator tools to help them handle the simple, manual tasks that will free them up for other technical work. This quote by Perrine Parque, "Diversity and inclusion speaker clarifies how employee engagement is a very important issue in many businesses."
Employees don't lack motivation, they just don't feel valued or heard. Leaders: invest in listening to your people and value their inputs because this will build trust, commitment, and real engagement"
Another major problem that has arisen from low employee engagement is the rise in work-related health issues. According to worldwide statistics from the International Labor Organization, stress and illnesses that are work-related cause the deaths of almost 2.8 million employees every year, and it costs society and businesses about $3 trillion every year.
Impact of Covid-19 on the Work Systems and Challenges
The effect of the Covid-19 pandemic cannot be overstated. Many lives were lost, businesses shut down and the world was forced to rethink and discover new approaches to doing everything like automation building, from the way schools function to the work models businesses used. Many businesses turned to remote work, and it was a big success that saved millions of companies from closing down. But it wasn't all rosy, as many jobs were lost and it came with its own unique set of issues such as isolation, distractions, lack of proper monitoring, reduction in productivity, and more.
This had its impact on employee engagement as what was normally difficult for many companies in a full physical work model became nearly impossible for those who did not understand how to maintain employee engagement in the face of such a crisis. The levels of stress rose higher as the work-life balance gap became closer and closer, and many employees experienced heightened levels of stress, mental health deterioration, and loss of motivation.
Even for those companies that did do a good job of maintaining good levels of employee engagement by addressing the basic needs of their employees such as stability, security, ease of work, increased pay, etc, the business world is changing again.
As vaccinations increase daily and the pandemic slows down, many companies are returning to the full physical model or incorporating a mix of the remote and physical models. Employee engagement now requires a more sophisticated approach to maintaining and improving the employee experience.
Many companies are rethinking how they can combine the welfare and productivity of their employees with the increasing needs of their businesses, and many are coming to the solution of Intelligent Automation. This Tweet by Pawan Bhaduaria, the former CTO at an AI talent intelligence platform talks about Intelligence Automation in relation to employee experience. Already, there is a rapidly increasing demand for intelligent and cognitive machines all over the world. Several market predictions say that the size of the global market for Artificial Intelligence will reach $266.92 billion by 2027, and have a CAGR of 33.2%.
5 Ways how Intelligent Automation can Improve Employee Engagement
Intelligence Automation is very simple to incorporate into your business, no matter what kind of business you operate. Many of the systems available now do not even require code or complex technicalities for integration, and we will recommend a top IA system for you later on. You can also switch to automated systems while maintaining your current manual systems. Many companies have re-examined their manual work systems and realized that to improve their employee engagement, they need to work on the high volume and variety of work being assigned to their employees. This is where Intelligence Automation and powerful features like process mining comes into play.
By handing over multiple work applications and tedious, repetitive tasks to automated workflow tools and systems, employees are then freed up to handle more technical and meaningful work, work faster, improve their creativity, and be more effective and productive. They also have more time for themselves; their personal lives, work interactions, etc. The common mantras of "I don't have time because I have to do this" and "My schedule is booked up" get tossed out with the incorporation of Intelligent Automation and qualitative work that improves the customer experience and the business becomes the primary focus.
Here are 5 ways that Intelligent Automation impacts your business and improves Employee engagement:
1. It Reduces the Workload of Employees
A major issue hindering good levels of employee engagement in many companies is the overworking of their employees. These employees are tasked with repetitive tasks every day that are boring or take hours to complete such as inventory or data entry. They also still have to complete other unique tasks for the business, as well as lead their personal lives.
With the inclusion of intelligent automation, much of the workload that consumes this time can be taken off. Of the 60 hours that many employees put into their job in a week, an estimated 18 hours could be released and diverted into other activities and work that is favorable to the employees or business.
2. It Helps the Business to be More Compliant With Regulations
The incorporation of Intelligent Automation has a big benefit of removing the risk of human error in business processes. It is impossible for human employees to not make mistakes, after all, it is part of our nature. But for businesses in areas of high regulation, such as healthcare, accounting, financial services, etc, errors can be very costly.
Thus, for certain tasks, Intelligent Automation is certainly a safer option. IA tools such as robotic princess automation (RPA) can be very effective when performing the simple and repetitive tasks that are important in these fields such as collecting and recording data. It helps to protect the employees from the potential consequences of innocent errors while enhancing productivity for the business.
3. It Improves the Collaboration and the Work Spirit of Employees
A big benefit of Intelligent Automation to businesses is how to improve collaboration, trust, and work spirit between employees. The incorporated technology allows various users to monitor and access each other's work tasks and activities. So, instead of contacting the employee to enquire or access a certain task or project, the interested manager or employee can simply access their work via the tech.
With the freed-up time that Intelligent Automation also provides for the employees, there is more time for them to interact, share ideas, relax and have discourses on themselves and the company. During times like this, employees can be inspired by each other, come up with new ideas and directions for the products or services of the company, and build better work relationships.
4. It Improves the Customer Experience Ratings of the Business
It is common knowledge in business that happy employees almost always equals happy customers. Employee engagement is tied directly to customer engagement as it is your employees that are the face of the business and the people with whom your customers interact.
Having Intelligent Automation improve your employee engagement increases the chances of your customers having a better experience with your employees, and thus, with your business. This will not only help you to retain previous customers but also attract new ones, thereby growing your business.
5. It Builds the Popularity of the Business and Attracts new Talent
Companies that incorporate Intelligent Automation into their work processes are definitely rated higher by their employees and thus more popular in the business world. They are more attractive to new and quality talents in the world that are seeking jobs, especially when they have structured onboarding programs for their new hires. An estimated 58% of employees who had a structured onboarding program are more likely to retain their jobs.
This popularity does not limit itself to employees, as investors and customers are more likely to go for a business that uses modern processes and is well endorsed by its employees. An article by Harvard Business Review stated that companies that lead initiatives to improve the employee experience are four times more profitable than those that don't.
Conclusion
According to a report by McKinsey, released in 2015, up to 60% of businesses in various areas could have 30% or more of their business activities automated using modern technology such as Intelligent Automation. As a business owner, it is imperative that you take this step to improve your employee engagement and see the positive impact it will have on the productivity of your business.
As we mentioned earlier, there are many Intelligent Automation systems in the market, but very few can satisfy the needs of your business. Our personal recommendation for an Intelligent Automation system for your business is BotPath rpa software.
This software offers you intelligent robotic process automation software and Task capture features to help you automate your business processes and tasks, and manage them with ease. It is a part of the 500apps suite and comes at the most budget-friendly pricing for your business. So, take BotPath for a trial, and see how your employees, customers, and business will thank you for it.
Why Botpath?
#1
Automated Repetitive Tasks
#2
End-to-End Bot Development
#3
Customized Bot Builder
#4
Unlimited Automated Workflows Management
#5
Automated Data Extraction
#6
Workflows Recording Management
#7
Rule-based Process Automation
#8
Seamless Data Management
#9
Unbelievable pricing - the lowest you will ever find
#10
Everything your business needs - 50 apps, 24/5 support and 99.95% uptime
Join the SaaS Revolution
All-in-One Suite of 50 apps

Unbelievable pricing - $14.99/user

24/5 Chat, Phone and Email Support