Best Alternative to RPA UiPath
Modern businesses have evolved as a result of automation. Additionally, as companies struggle to operate flawlessly in a digital environment, the opportunity to utilize robotic automation in business processes has grown in popularity. Businesses are automating knowledge-based, professional service operations that don't require human interaction with RPA Robotic Process Automation systems.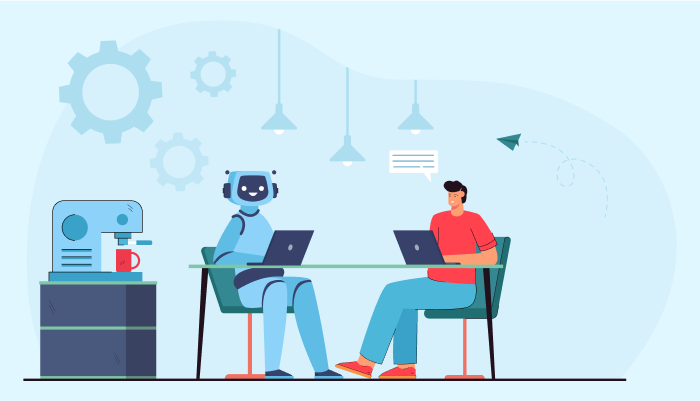 Robotic Process Automation RPA means automating rule-based manual tasks associated with repetitive and transactional processes by interacting with software robots through Software-as-a-Service applications and IT systems.
The robot imitates how an employee might interact with a system's user interface. Without changing the existing system and infrastructure, RPA services offer data security, improved business efficiency, and effectiveness across numerous business applications.
RPA technology can be thought of as a breed of technology in fields like artificial intelligence, automation engineering, and machine learning. Instead of employing the most valuable human resources on repetitive operations, it can be viewed as a low-risk technique to conduct business functions automatically.
Introduction to RPA UiPath
Users can automate different facets of corporate operations using the well-liked and cutting-edge RPA UiPath. It offers an open-source platform that encourages cooperation and automates routine chores. It is utilized throughout a number of industries, including banking, healthcare, and finance.
One such solution is the Robotic Process Automation software UiPath, which may be used for a variety of automation processes, including Citrix, PDF, Web, and Windows desktop automation.
Robotic Process Automation tools like UiPath give web developers the ability to automate a variety of tasks, including data extraction, application transfer, report generation, and website testing.
Artificial intelligence (AI), business process management (BPM), and enterprise resource planning (ERP) technologies can all be combined with this solution (ERP). Users can automate unnecessary chores with the help of its end-to-end solutions. Visual Basic is this tool's primary programming language of choice (VB).
BotPath - Best Alternative to RPA UiPath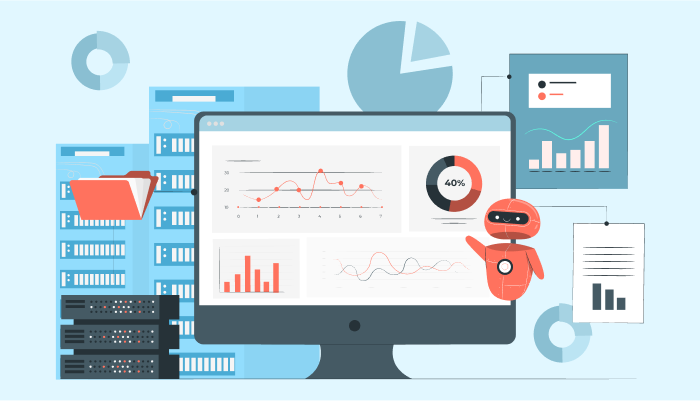 With the use of capabilities like templates and many more, we developed a feature-rich software and the best alternative to RPA UiPath to help us and our customers enhance output while saving time and money in the process. RPA may be implemented using BotPath, the best alternative to RPA UiPath in any organization, by any employee, and at a cost that is intended especially for small and medium-sized organizations.
Users can build AI bots using BotPath, the best alternative to RPA UiPath, even if they have no prior knowledge of AI or RPA. It features an intuitive UI with rich customization capabilities. The powerful features are implemented in a way that makes the product affordable and simple to maintain.
BotPath, the best alternative to RPA UiPath gives users the ability to activate, deactivate, duplicate, and delete bots from a single dashboard, which is essential for a successful RPA solution. Users can also categorize and filter listings according to jobs in their bot lists. Jobs can be produced and manually assigned, or they can be created and queued up for the next available bot.
Powerful Features of BotPath - Best Alternative to RPA UiPath
The best alternative to RPA UiPath like BotPath, which enables businesses to automate their monotonous processes.
Users of the software can record and replay workflows to repeat process execution.
It includes a Bot Builder that may be used to create unique bots according to users' business requirements.
System Bots can also be built using BotPath, the best alternative to RPA UiPath to streamline human-robot interactions.
Users can link their goals with the program so they can monitor development, direct teams, and view the status of automated procedures in real-time.
Additionally, it provides businesses with a centralized source of high-quality, reusable data, easily-shareable conceptual frameworks, and factors.
Users are free to repeat processes or workflows they've captured for automation using BotPath, the best alternative to RPA UiPath as often as they like.
Additionally, the platform includes a number of templates that allow businesses to easily create RPA processes that meet their unique requirements.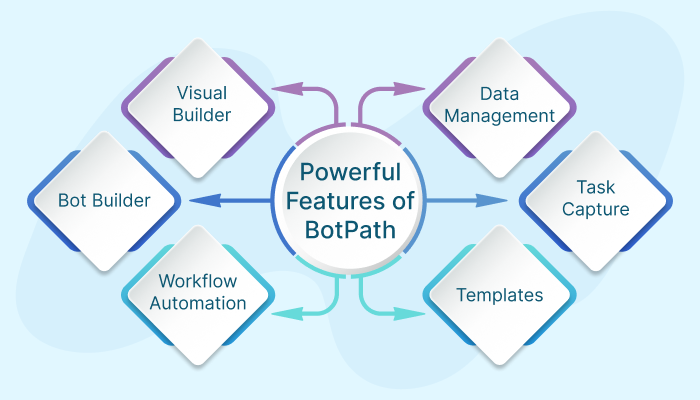 i) Visual Builder
The Visual Builder can be used by users to create bespoke automation that can be incorporated into applications. Additionally, Visual Builder allows users to retrieve information from external REST services.
Build Powerful Automations
Universal Access
Bot Builder
ii) Bot Builder
Create complex, high-tech systems and processes at a low cost and start renovating other approaches quickly and easily. For each of your approaches, we have the robotics, integration, and security features you require.
Custom Bots
Designer Flow
Cloud Testing
iii) Workflow Automation
Connect company objectives and the work necessary to support them in one location so you can monitor progress, guide teams, and watch the advancement of initiatives in real-time.
Loop Break
Single Extraction
Multi Extractions
Send Notifications
iv) Data Management
Have a consolidated source for high-quality data, reusable, consistent data conceptual frameworks, and elements that can be shared instead of attaching each workflow automation to a different enterprise system.
Data Extraction
Log Information
Search box
Filtered Details
v) Task Capture
Workflows can be recorded and repeated as often as necessary. Streamline the difficulty of repeatedly conducting a process. Process or workflow recording makes it easier and faster to complete a workflow.
In-app Actions
Flow Editor
Playback
Action Timeline
vi) Templates
Instead of starting from scratch, you can modify an existing map to suit the requirements of your company. Additionally, you can design your RPA process using advanced tools like BotPath, the best alternative to RPA UiPath.
Automate Tasks
Simplify Automation
Custom Rules
UiPath Vs BotPath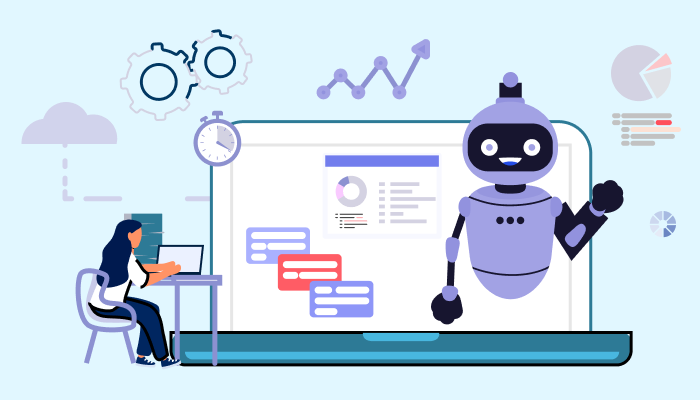 All-in-one Business Suite
BotPath, the best alternative to RPA UiPath supports your company with cutting-edge software that provides useful insights, guarantees high yield, and provides exceptional customer service. It's time to reward your company with quicker operations and less time for customers to wait. 80% of small firms are not using the technology at its full potential. Utilize a one-stop shop for all of your company's needs to beat out the competition.
UiPath on the other hand, lacks a comprehensive solution or All-in-One suite, thus limiting your business to mere functionalities and depending on third-party applications, which results in extra costs and increased time in achieving goals from hustling from one application to the other.
Boost your Productivity with Intelligent Automation Sign Up 14 Day Trial
Chrome Extension
UiPath does not offer an extension, whereas, with BotUp, you can connect company objectives and supporting activities in one location to manage initiatives in real-time, assess progress, and keep teams on track. BotPath chrome extension's easy access and instant automation, automation that runs remotely buy you time.
Pricing
Trusted by more than 30,000 businesses, we bring you the best alternative to RPA UiPath, and BotPath software applications at an honest price of $14.99/user.
Well, not just BotPath, you get all 50 applications at the same price of $14.99.
No feature restrictions
No price variations
Unlimited access
UiPath Pricing Plans
Automation developer at $420
Unattended automation at $1380
Automation team at $1930
Enterprise and medium businesses - custom pricing is available by contacting the sales team
Final Words
There are a lot of RPA solutions in the market right now, all of which cater to different business sizes and project scopes. The right solution for your business must consider problems and demands your team deals with on a daily basis.
Unfortunately, the pricing ranges reflect the fact that most of the companies serve big corporations.
Therefore, BotPath, the best alternative to RPA UiPath, was developed to offer features that small and medium-sized enterprises require but cannot afford.
It's crucial to take into account your present financial constraints when choosing a solution for your team. You should also consider inputs from your team and involve them in the decision-making process. Because customers couldn't locate all the capabilities they required in a single app, the social media comments we gathered enabled us to defend the need for BotPath.
If you're in the market for the best alternative to RPA UiPath, we invite you to try BotPath free for 14 days. It's an excellent means to create a digital workforce that supplements your employees across the board.
Why Botpath?
#1
Automated Repetitive Tasks
#2
End-to-End Bot Development
#3
Customized Bot Builder
#4
Unlimited Automated Workflows Management
#5
Automated Data Extraction
#6
Workflows Recording Management
#7
Rule-based Process Automation
#8
Seamless Data Management
#9
Unbelievable pricing - the lowest you will ever find
#10
Everything your business needs - 50 apps, 24/5 support and 99.95% uptime
Join the SaaS Revolution
All-in-One Suite of 50 apps

Unbelievable pricing - $14.99/user

24/5 Chat, Phone and Email Support